Carrom has always been a game that brings families and friends together at one table. Be it cold winter nights or lazy weekends, this board game is the solution to your monotonous days.
However, our modern lifestyles rarely allow us to indulge in such leisure activities. But this doesn't mean you need to give up on playing your favorite childhood game.
In fact, you can enjoy a game filled with striker challenges by playing Carrom Pool: Disc Game, an easy-to-play multiplayer board game that lets the best player knock the other opponent right in place. So let's dive right into and learn more about the game.
About the Great Competitive Carrom Pool
Common Pool Features
About the Great Competitive Carrom Pool
The online search and web engines are flooded with carrom board games, but what makes Carrom Pool unique is its simple gameplay. In addition, it features a sleek interface which makes it even more appealing for players who love simplicity without any extra frills.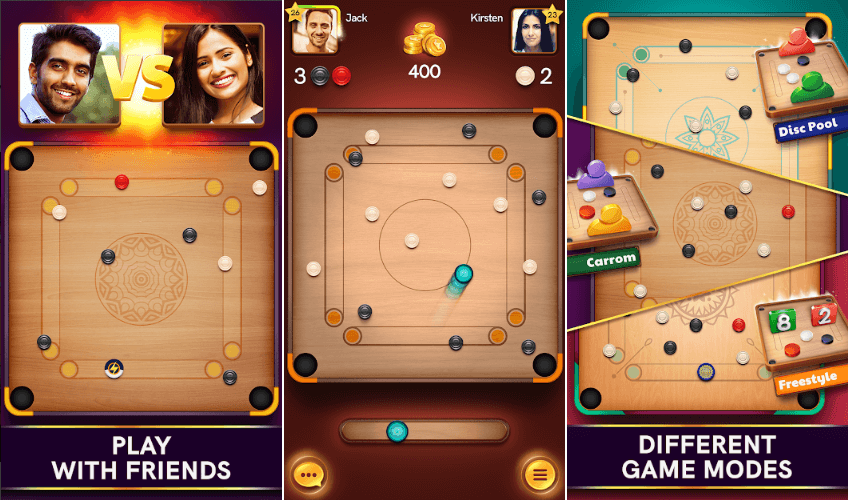 Made with great physics and powered with smooth controls, it is a game that allows so many players to have a great match. The players get to challenge the best in the field from across the world.
Also, the game has multiple popular variants across the globe, such as Couronne, Crokinole, Pitchnut, Pichenotte, Novus, and Bob.
The best part of it is that the game can be accessed in both online and offline formats. In the absence of an internet connection, you can play it all by yourself, basking in your own divine inspiration and striking skills. However, when online, you get to show off your exceptional skills to your friends and users around the world.
Free Gems and Coins
One of the precious items of the game is the virtual currency in Carrom Pool. Using this virtual currency, you can buy in-game items and unlock other amazing features of it.
When you win a match, you are awarded some gems. Similarly, when you lose, you will lose your currency as well. Hence, relishing a game full of advanced features ensures you're giving your opponent a tough beat.
One another way to access these gems is by investing real money in them. You can purchase the best items through the app's various in-app purchases to gain access to better items and gadgets.
Common Pool Features
No one prefers to play games alone, which is why Carrom Pool is made to provide entertainment for so many users at a go. Its multiplayer feature allows you to play with your family and friends. And it comes as no surprise that the game is designed for a maximum of four players and a minimum of two players.
Moreover, the more people that participate, the higher the chances for you to collect free gems. So, you can collect bountiful free gems if all four players are in it to win it. Another intriguing feature of the game is its availability in both online and offline forms.
The online options lay a battleground to compete with anyone from all over the world as well as with your near and dear ones.
At the same time, the offline option is an additional delight for users who wish to spend their leisure time alone and want to enjoy their own company.
Other Interesting Features
You can play the game in two modes- Freestyle, Carrom and Disc Pool. As you progress, you unlock a lot of pucks and strikers that assist you while playing in glorious arenas. A classic feature of the game allows you to try your luck at a golden shot. Playing this golden shot bags you great prizes and bigger wins.
Above all, there is one add-on in this super fun game that makes it worth keeping on your phone. It is the voice and video chat feature, which means you can play and discuss with the opponent or friend right in the game itself. It's as if you are playing in real life with someone and expressing your emotions through it!
The Bottom Line
This is your cue to begin a round of thrilling carrom pool. You're sure to up your game and put all your pieces before your opponent. Download the Carrom Pool app today to have the most entertaining rounds of nail-biting performances.