If you're searching for a casual game to play to find relief from boredom, there are a lot of mobile games that you can download. One of the best casual mobile games to play is Gem Master - Big Jewels Merge. It's simple, very easy to understand, and fun to play.
Gem Master is a mobile game where players use small jewels and merge them with a similar gem to create bigger and prettier jewels. In this game, you can synthesize different jewels and turn them into beautiful ones while earning gems. The game is free to play and doesn't have any in-app purchases.
Learn more about the game, see how to get jewels and gems, and more with the guide below.
Merge Jewels and Synthesize Them to Earn Gems
Create Combos and Receive Rewards
Complete Reward Tasks and Get More Gems
Login Every Day and Collect Gems
Break Your Record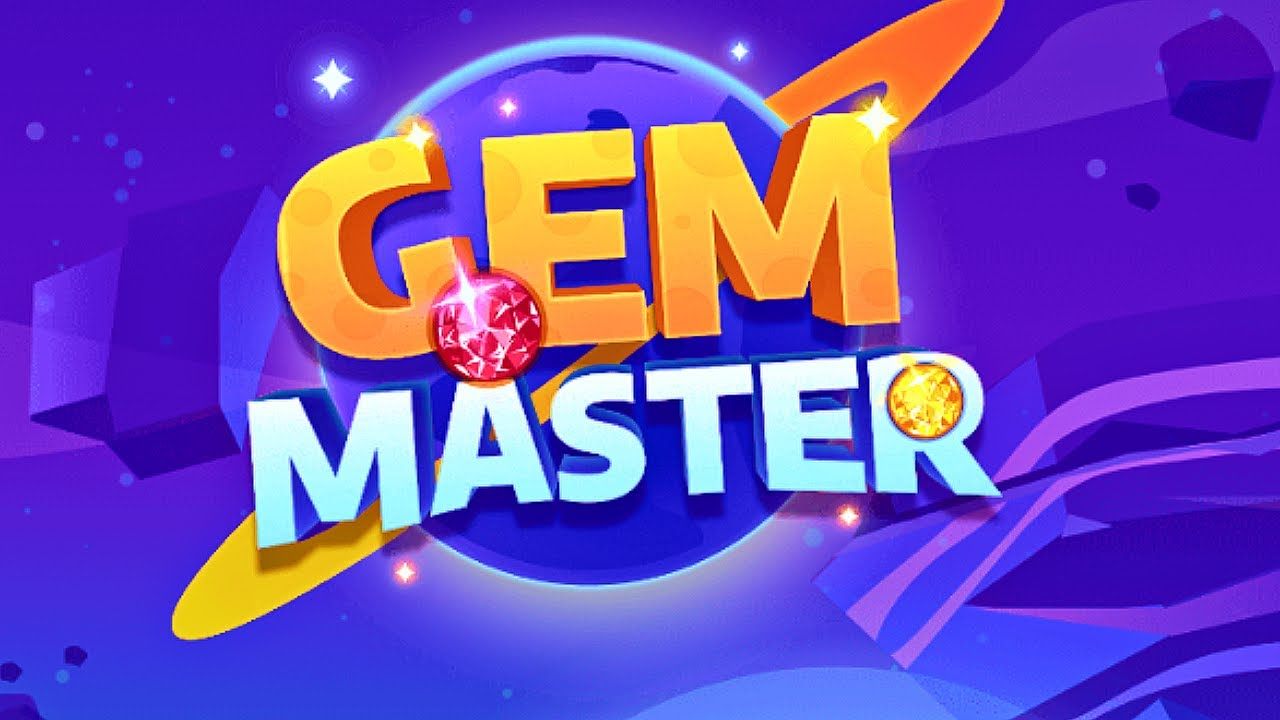 Merge Jewels and Synthesize Them to Earn Gems
Gem Master is a very simple game to play. The main goal is to match and merge jewels of the same color to remove them from the board. Removing jewels from the board will result in players earning gems.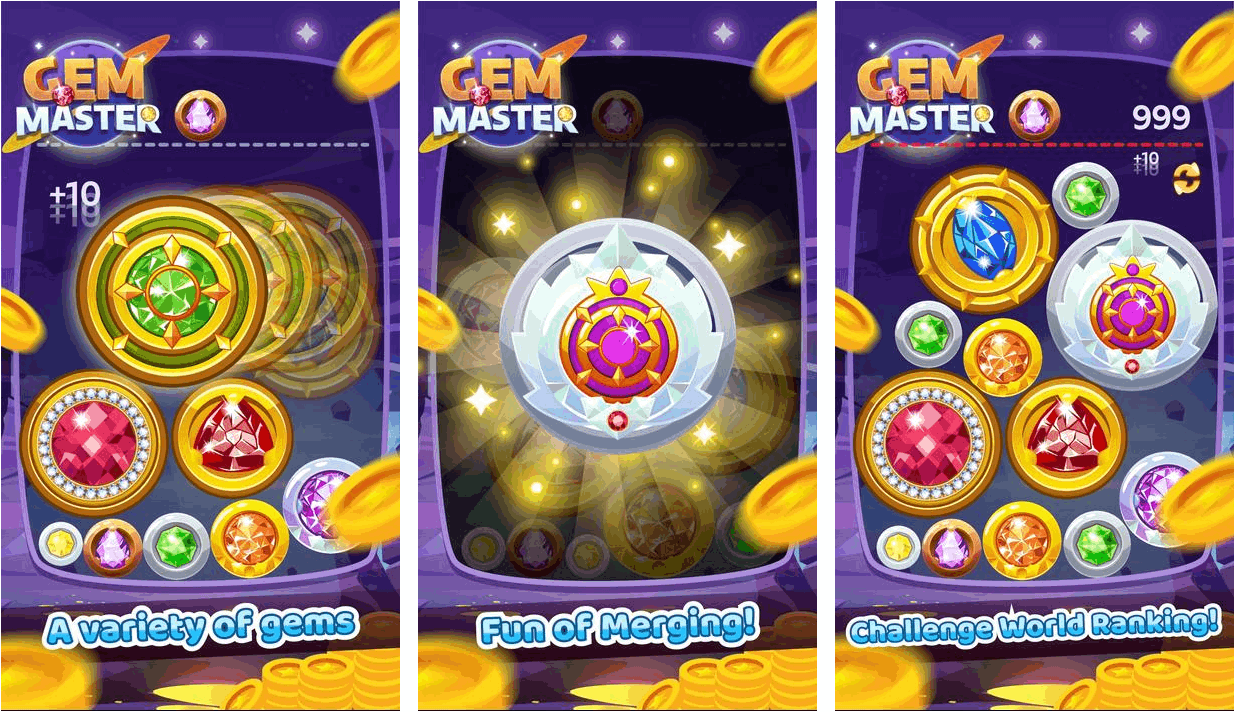 There are a lot of ways to get gems in Gem Master and in this guide, we'll teach you how to do it in the simplest way possible. First, you need to know what gems are and what are they for. Gems are the in-game currency used to purchase resets.
Resets are used to exchange the current jewel with another so you can properly plan your next move. The app does provide a few resets for free at the start of the game, it is quite expensive if you purchase them using gems.
This is why it is best to reach a certain score threshold to double or even triple the gems that you acquire.
Look at the Incoming Jewels and Strategize Accordingly
Speaking of jewels, gems, and resets, Gem Master looks simple but it requires a lot of strategic thinking to properly place the jewels within the board to create gems. The game plays much like Tetris but has far more mechanics added to spice things up.
Strategy is needed when it comes to placing jewels on the board. At first, you can try to match and merge the same jewels immediately but that only results in a few gems. Try to experiment by looking at the incoming jewels and layer them together to create a chain.
When the right moment comes, you can pull the trigger and set off a domino effect that will help you acquire tons of gems in the process. Proper placement of the jewels is key to playing the game.
Create Combos and Receive Rewards
Merging jewels one at a time will result in gems. While many new players might want to play the game this way, it is not an effective method to earn gems. There are several ways to maximize your earnings while playing Gem Master.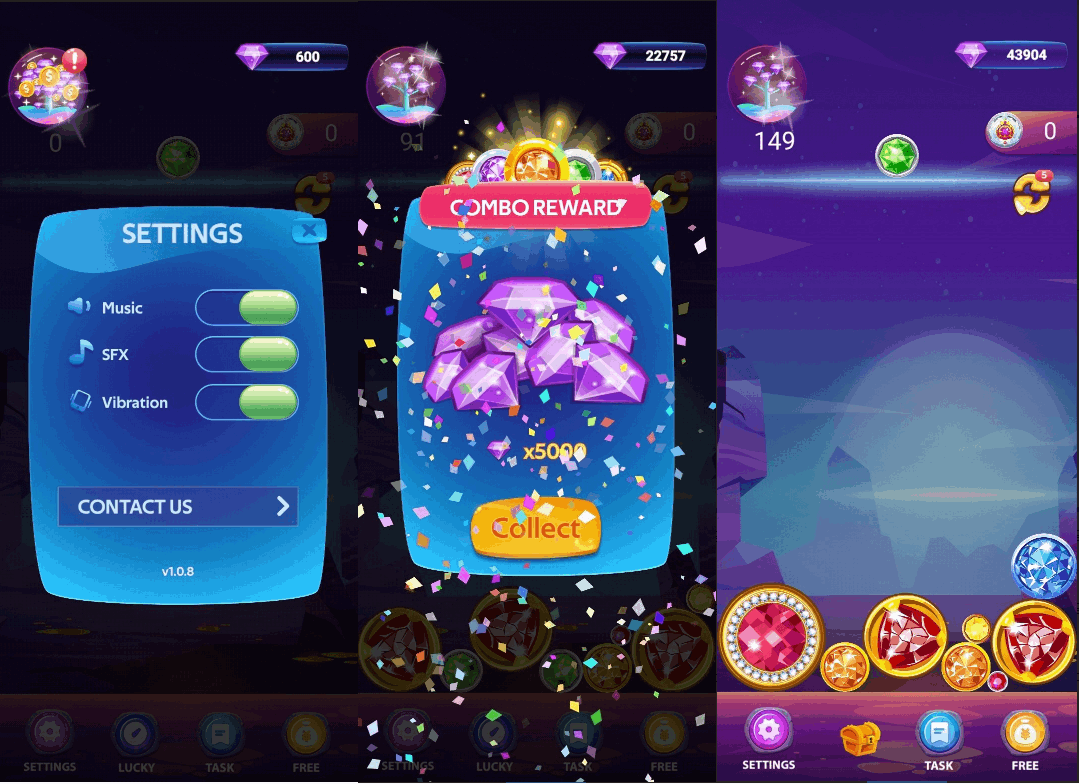 The most effective and efficient technique is to create a combo. A combo happens when you merge two jewels and create a new one. It then merges automatically with another jewel of the same type that is adjacent to the jewel that you just merged.
This is why the strategic placement of each jewel is highly important to trigger such an effect. Setting off a combo will result in earning a lot of gems.
However, setting off two or three more combos will result in a combo reward which will multiply the number of gems a player earns from the combo.
Learn How to Use Your Resets Properly
Resets are given to each player for free at the start of the game. There are around five resets that players can use to try and swap jewels. Resets are commonly used to swap one type of jewel with another in an attempt to make a score or set up a combo.
However, swapping jewels are random so you need to be careful when you do so. You can use your reset whenever there's no more room for a specific jewel on the board.
Upon using the reset, the game provides another jewel for you to use, thus giving you a new option to either make a score or trigger a combo. Always use the reset carefully. Using a reset is a double-edged sword. This can either help you win more gems or it could end your game abruptly.
Complete Reward Tasks and Get More Gems
If you look closely at the game, there are a lot of options at the bottom of the screen. One of which is Tasks. Tasks are short missions that players can do to get more gems.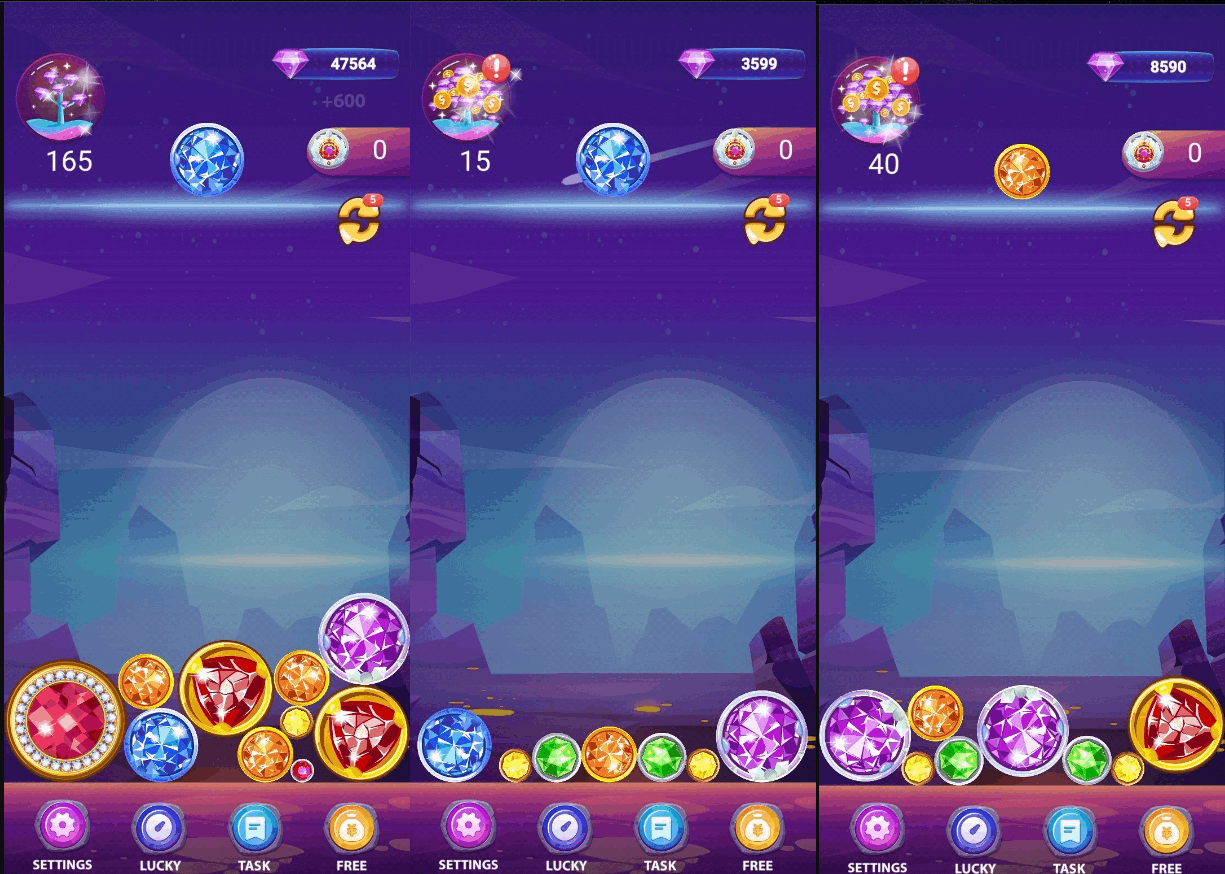 You should always check these tasks before playing the game or while playing to see your progress in the game. There are a lot of tasks that involve collecting certain jewels in Gem Master.
Make sure to check the Tasks to see how much time you need to play the game in an effort to complete these tasks. Once done, the game will reward players with hundreds and even thousands of gems which will allow you to afford more resets.
Watch Ads to Double Your Rewards
Gem Master is a free-to-play mobile game so it will always rely on advertisements to make profits and fund the game for its player base. While this may deter some players from playing the game, there are a lot of perks for players who don't mind watching ads.
Watching ads within the game can double the rewards. These rewards often come in thousands of gems depending on how many times you've watched ads. Most of the time, you'll only get double rewards from watching a single ad.
So, if you're one of those that don't mind watching ads from time to time, check them out and make sure to collect the rewards afterward. Ads are also available whenever you get the combo and offer to multiply the rewards that you've received so far.
Login Every Day and Collect Gems
Apart from watching ads and completing tasks, there's another way to acquire more jewels and gems in the game. One of which is by being loyal to the game.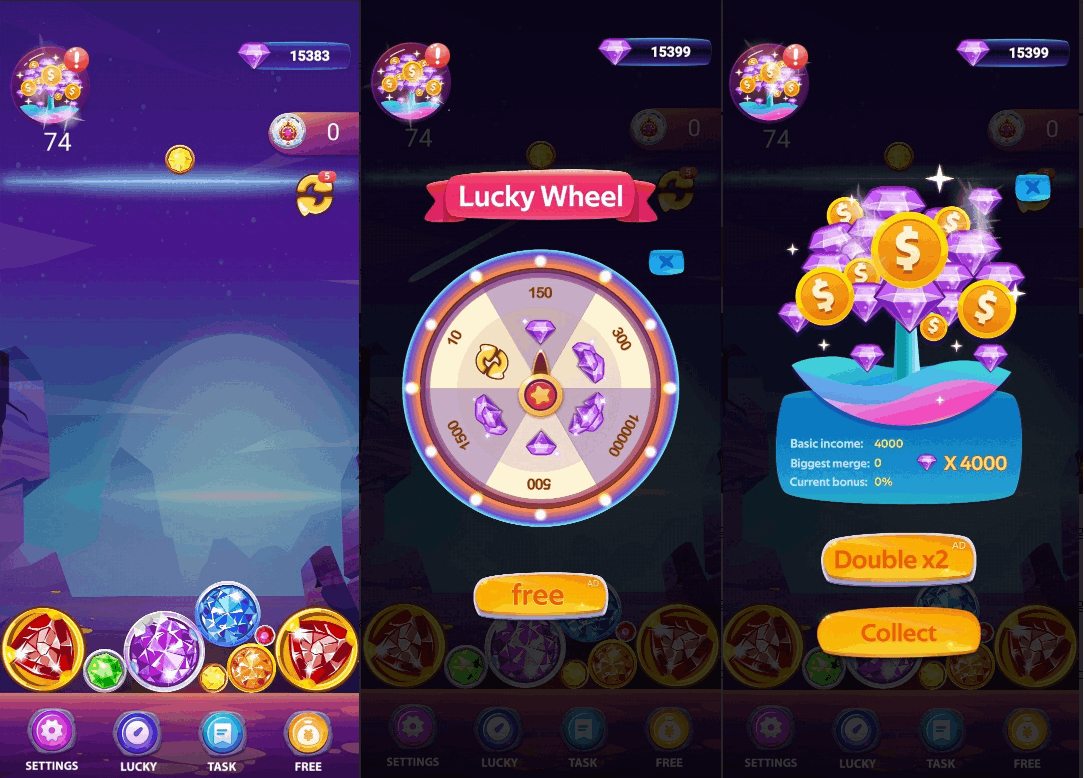 Logging in and playing the game, especially around the same time every day. has rewarded me with at least 3,000 gems.
The game has an option at the top of the screen that reveals a countdown timer. Once you collect the reward, the countdown timer starts once again which will inform you when you can collect the reward again.
This option usually refreshes automatically after a day. Log in around the same time every day and collect gems. However, playing the game for some time slowly makes the countdown shorter so you can collect the rewards earlier.
Spin the Lucky Wheel
Another great option to earn more gems and jewels in Gem Master is to spin the Lucky Wheel. The Lucky Wheel is found at the bottom of the screen alongside the Tasks option. Check it out and spin the wheel to receive prizes including different amounts of gems and a few resets.
The Lucky Wheel can only be used once you've watched an ad. Always make good use of this option especially if you're running out of resets to play the game.
You have the option to watch a limited amount of ads at a certain time so you should always make it count. You can also use this option whenever you run out of gems to use for resets or even spin the wheel to get resets immediately.
Break Your Record
Seasoned players of Gem Master will slowly find this game monotonous at some point. However, the game does its best to keep on challenging its players.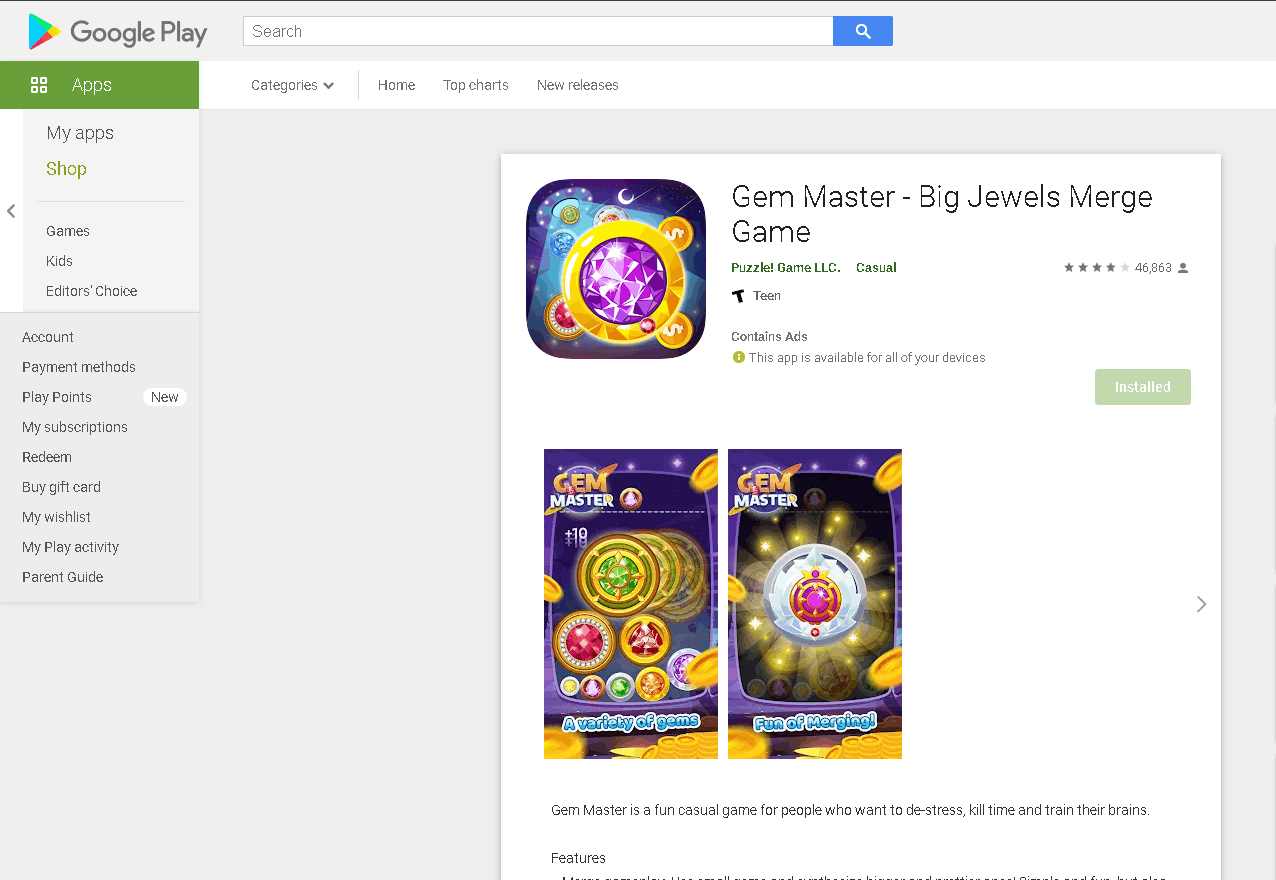 One way of doing this is to challenge them to break their record and watch their name rise in the global rankings. You can check the global ranking to see your position in the game.
It is quite a tough hill to climb but that's why it's called a challenge. Many players are also invested in playing this game so there's going to be tough competition.
Downloading Gem Master
Gem Master - Big Jewels Merge is free to play and free to download on mobile devices. Android users can download the game at the Google Play Store.
Search for the title of the game and tap Install to download the game. Wait until the game is fully installed and tap Open to launch the game.
Conclusion
Gem Master is a simple and casual mobile game that lets you enjoy your free time. Follow the tips and tricks mentioned above to get more gems and purchase more resets.
This way, you get to enjoy playing the game, explore its many strategies, and beat other players to get to the top of the global rankings.