Match-three puzzle games are always fun but can sometimes be challenging. The same can be said about the game Farm Heroes Saga.
Brought to us by the developers of the Candy Crush Saga, Farm Heroes Saga follows the same premise as many of their other games. What sets this game apart is the aesthetics and the more challenging puzzles.
I know it can be very difficult to finish each level of the game. I decided to make a guide on how to play the game, how to download, how to farm gold bars, and more down below.
Play Farm Heroes Saga
Take Advantage of Your Experience from Playing Other Games
Look for Fruits with Bonus Points
Use Boosters to Help You Finish the Game
Get Free Gold Bars from Facebook
Focus on Your Mission First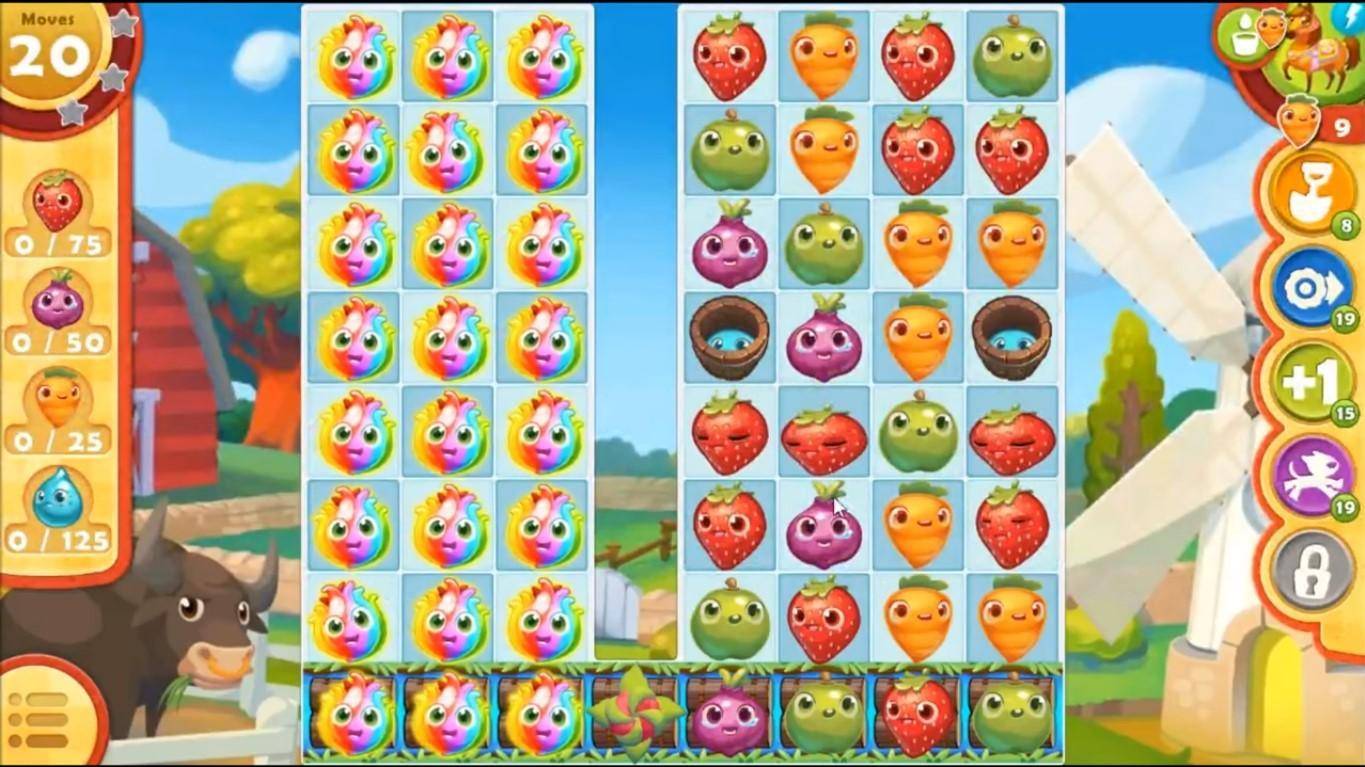 Play Farm Heroes Saga
Farm Heroes Saga is a match-3 puzzle game where players match different kinds of fruits and crops to finish each level before running out of moves to play.
Players can finish each level with style with the help of boosters and win magic beans.
Use gold bars to get extra moves and lives. Challenge yourself and rise to the top of the leaderboards.
Downloading Farm Heroes Saga
Farm Heroes Saga is now available for download on mobile devices. Check the game at the Google Play Store for Androids and the App Store for iOS devices.
Download the game by searching for the title and tapping Install. Once the game is fully downloaded, tap Open to launch and start playing.
Take Advantage of Your Experience from Playing Other Games
Farm Heroes Saga is very similar to many other games of the genre.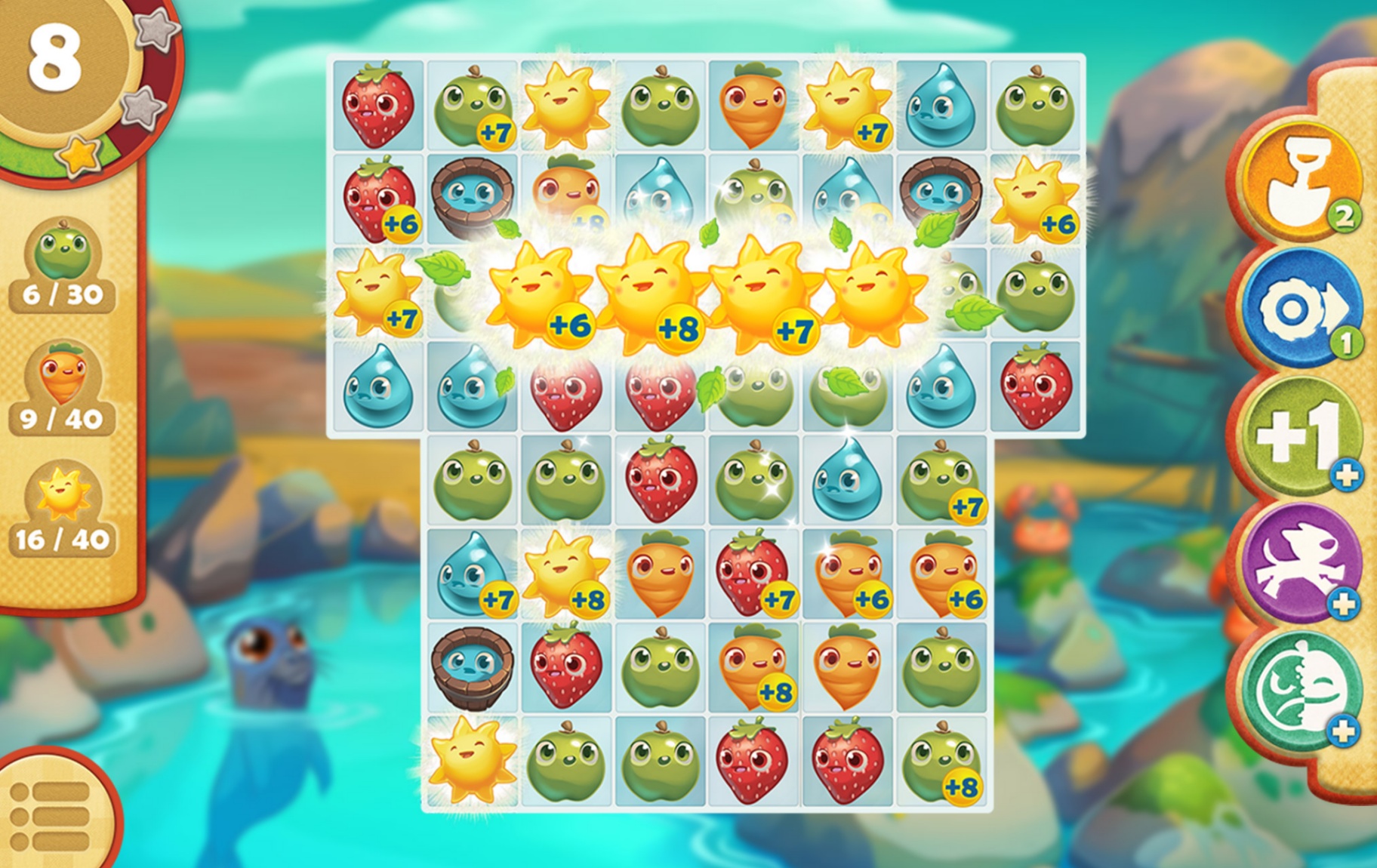 If you are playing a lot of these types of games, I'm sure you already have an idea of how the game is played. The mechanics remain the same with players needing to match similar crops with each other to take them out of the board.
Matching four or more sets of crops together will give me points. However, the more crops that I get to match on a larger scale, the higher the points I get.
One trick that I often pull off when playing this game is to match five or more. Matching five crops instantly gives me a huge boost of points as well.
Clear the Bottom First
If this is your first go-round with playing match-three puzzle games, I understand that you will need some time to sink your teeth into the game. One of the best ways to get a high score in this game is to shake up the board as often as possible.
This is done by clearing the bottom area first so that all the crops or tiles are brought down and new ones appear at the top. This paves the way for new crops to appear and the opportunity to match four or five more crops together.
Doing so always gives me more points, so go ahead and shake the entire board. This is also helpful if you can't find any other crops to match at the top portion later in the game.
Look for Fruits with Bonus Points
There are so many fruits and crops to play with on a given board for each level. However, if you look closely, you'll find that some certain fruits and crops have a number on them.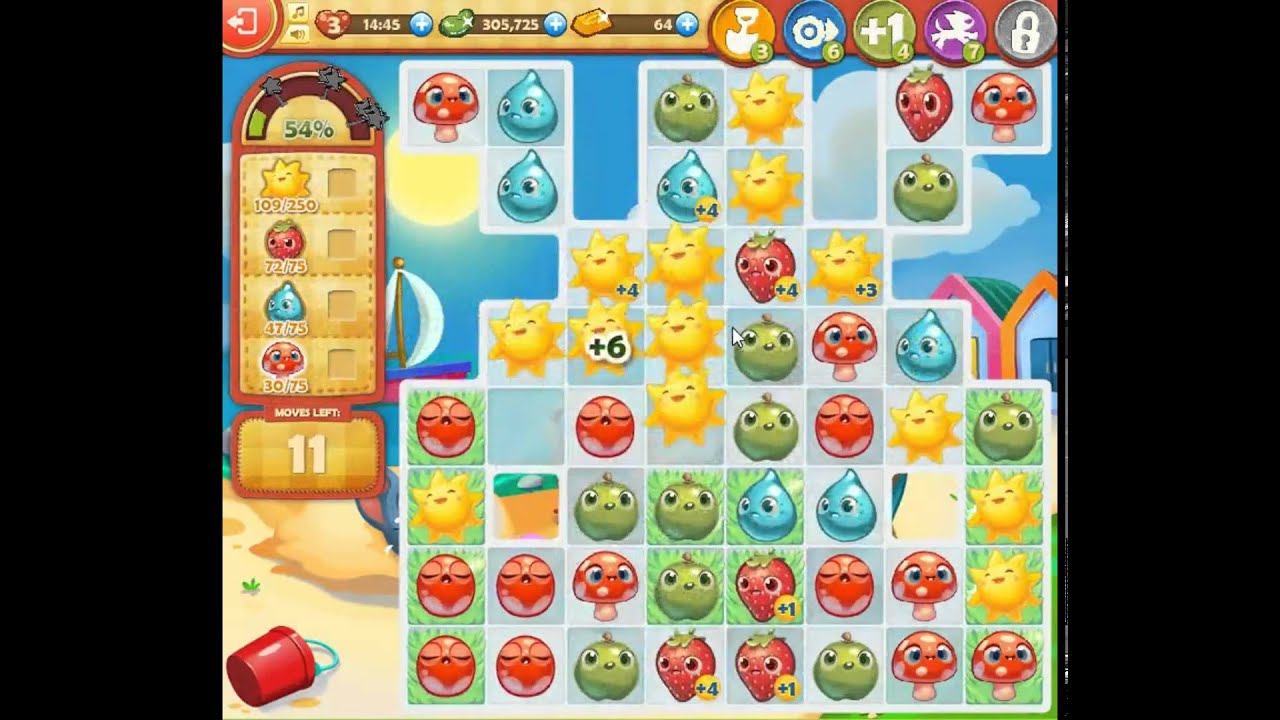 These are bonus points and I suggest you keep an eye on them. Matching fruits and crops that have these bonus points will add to your count.
This means that if I match three fruits together and one of them has a bonus point, the count will total four instead of three. I always match more fruits and crops whenever I see bonus points around them.
I notice that fruits like apples and carrots often have this kind of bonus in them so try to match fruits and crops around them.
Check Out Flowers as Well
Apart from bonus points found on these fruits, some flowers grow around the board at certain levels in the game. These flowers can be collected by matching fruits nearby.
When I do this, I receive prizes such as gold bars depending on how many I am able to collect. These flowers can only be collected once they fully bloom so be on the lookout for these apart from the crops and fruits that have bonus points on them.
Try to focus on collecting other stuff in the game while waiting for the flowers to bloom.
Use Boosters to Help You Finish the Game
I notice that boosters are quite helpful in this game. They are given to players for free and are replenished every 5 hours or so based on my experience. These boosters are very powerful in finishing a difficult level so you don't get stuck playing a level for a long time.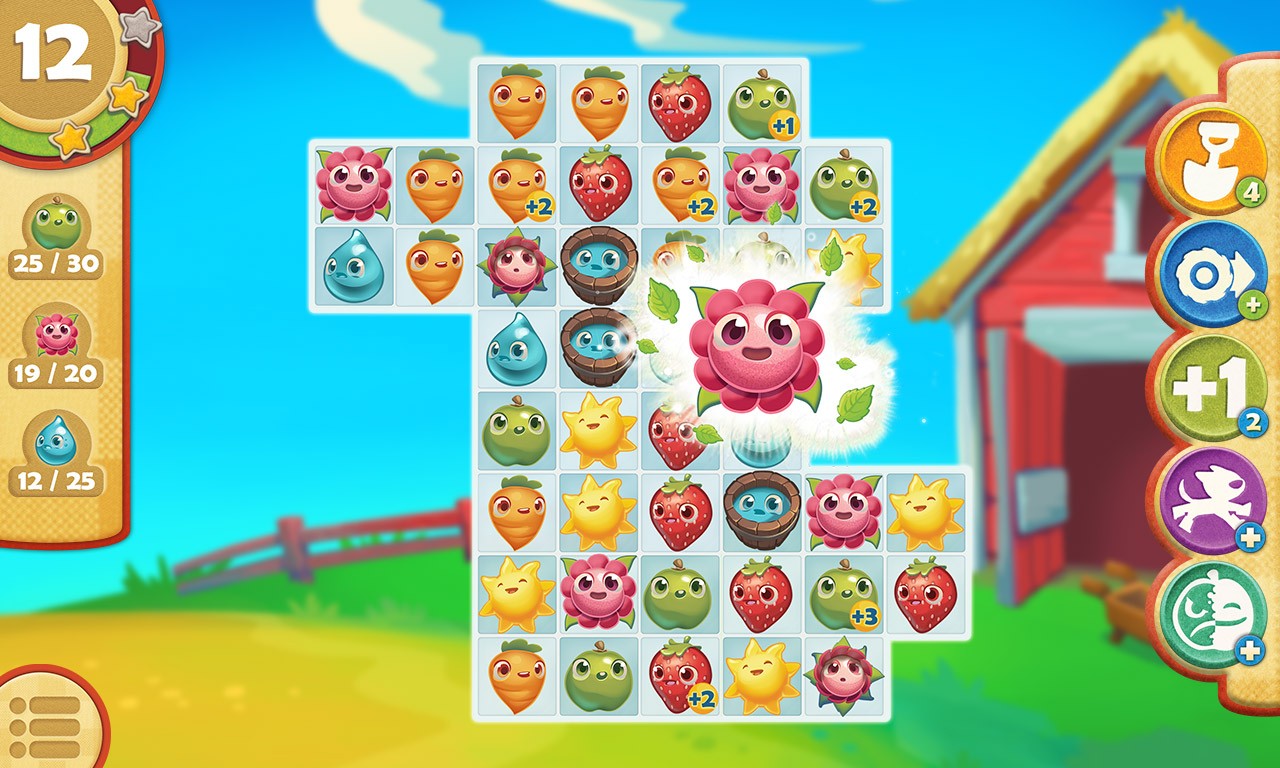 One of the best boosters to use in Farm Heroes Saga is the Tractor Booster which clears an entire row whether they match or not.
This immensely helps in shaking up the board if ever I find it very difficult to find a match. Another great booster is the Bonus Reward which places a bonus point on a certain fruit.
I use this booster whenever the game requires me to collect more from a certain type of fruit.
Unlock Hero Mode for a Surprise
Playing Farm Heroes Saga has been very fun and once I was able to finish a few levels in the game, Hero Mode was unlocked which also unlocked another feature in the game. Hero Mode plays similar to a bonus level in the game where I get to see flying animals on my screen.
These farm animals fly around and give bonus points to certain fruits and crops on the board. Take advantage of Hero Mode as it will help you gain a lot of points and ensure that you always get a high score by the end of each level.
Finishing a level in Hero Mode also gives beans which increases the growth rate of bonus points in the game.
Get Free Gold Bars from Facebook
Gold bars are used in Farm Heroes Saga to extend your playing time by getting extra moves and lives.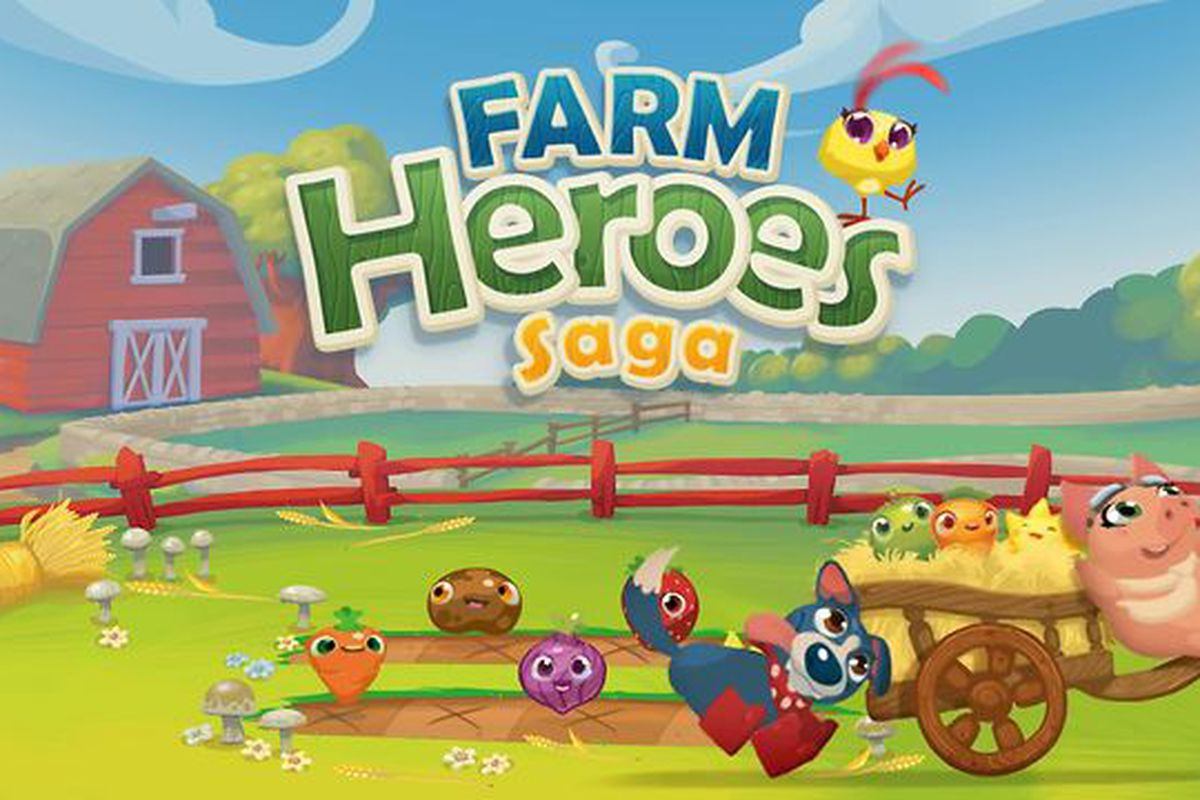 The game gives around 20 bonus gold bars but you'll have to learn how to get more What I usually do is connect my Facebook account to the game so I can collect 10 free gold bars.
These gold bars can only be acquired by using Facebook credits. I only use them on difficult levels so that I don't have to spend a lot of time trying to finish a certain level.
Don't Use Your Gold Bars All at Once
Since gold bars are given early in the game, many players often want to experiment and see which items can be purchased using the gold bars.
I don't recommend that you play the game early on and spend all of your gold bars. Save them for the later stages of the game where things can get very difficult.
These gold bars are precious resources that are used to unlock certain powerful boosters. Make good use of these gold bars in the game
Focus On Your Mission First
The best way to play Farm Heroes Saga is to play around with the mission. Each level presents a different mission.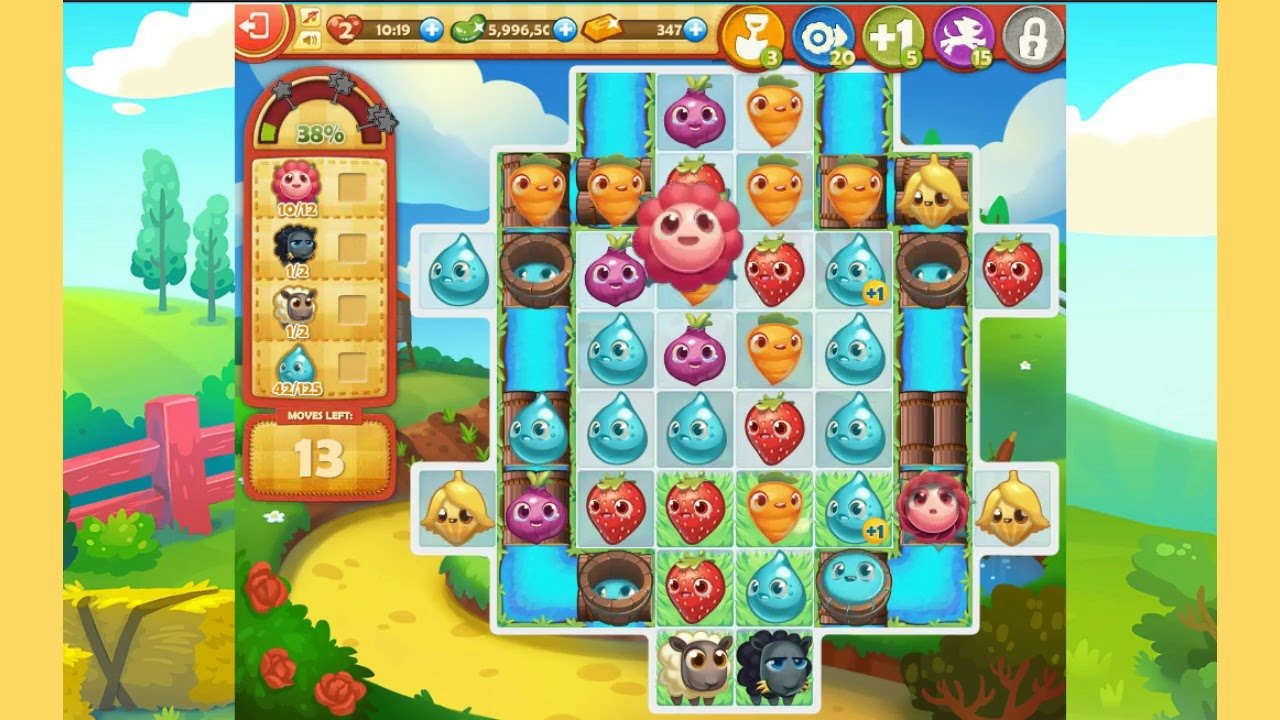 On one level, I was required to collect as many apples as possible. Other levels want need me to collect cherries while others want me to collect carrots.
Depending on the mission, I suggest that you try to focus on finishing it first rather than just trying to match random fruits and crops together.
Finishing the mission early on will give you a lot of points that can add to your score at the end of the level. I also need to finish other missions after I complete one so make sure to focus on the mission with the most difficult objective first.
Stop Wasting Your Time
I notice that many players spend a lot of their time scouring the entire board to match a specific fruit or crop that they like. Doing this wastes a lot of precious time when playing the game. Oftentimes, players end up wasting their moves without maximizing their potential.
These players don't take advantage of the limited number of moves in the game so they end up wasting both precious time and moves. Once you're having difficulty finding a match for a specific fruit, move on to the next one.
Stop wasting your time to find a particular type and instead go for the next best fruit that you can find for your mission.
Conclusion
I always have a lot of fun when playing Farm Heroes Saga. Most of the stages are very challenging but with the help of the tips above, I'm sure it won't be as difficult to play the game.