With so many mobile puzzle games, it can be pretty difficult to find a unique and challenging one to enjoy. There are thousands of puzzle games with repetitive gameplay; all you need to do is solve each puzzle to get to the next level. However, one mobile puzzle game has a unique take on the puzzle genre—Fishdom.
Fishdom is a unique mobile match-three puzzle game from Playrix. What makes Fishdom interesting to play, aside from the amazing and challenging gameplay, is the additional features such as the aquarium and other mini-games. You can even go on an underwater adventure if you want to discover more items in the game.
Puzzle games are always challenging, especially for those who are not fond of playing them. In this guide, you will learn how to play the game efficiently, how to get free cash, learn what power-ups are, what to do with them, and more.
A Vintage Match-Three Puzzle Game with Exciting Twists
Look Before You Solve the Puzzle
Choose the Firecracker to Crack the Game Open
Solve the Puzzles as Fast as Possible to Get Free Cash
Save Your Cash and Avoid Buying Duplicate Items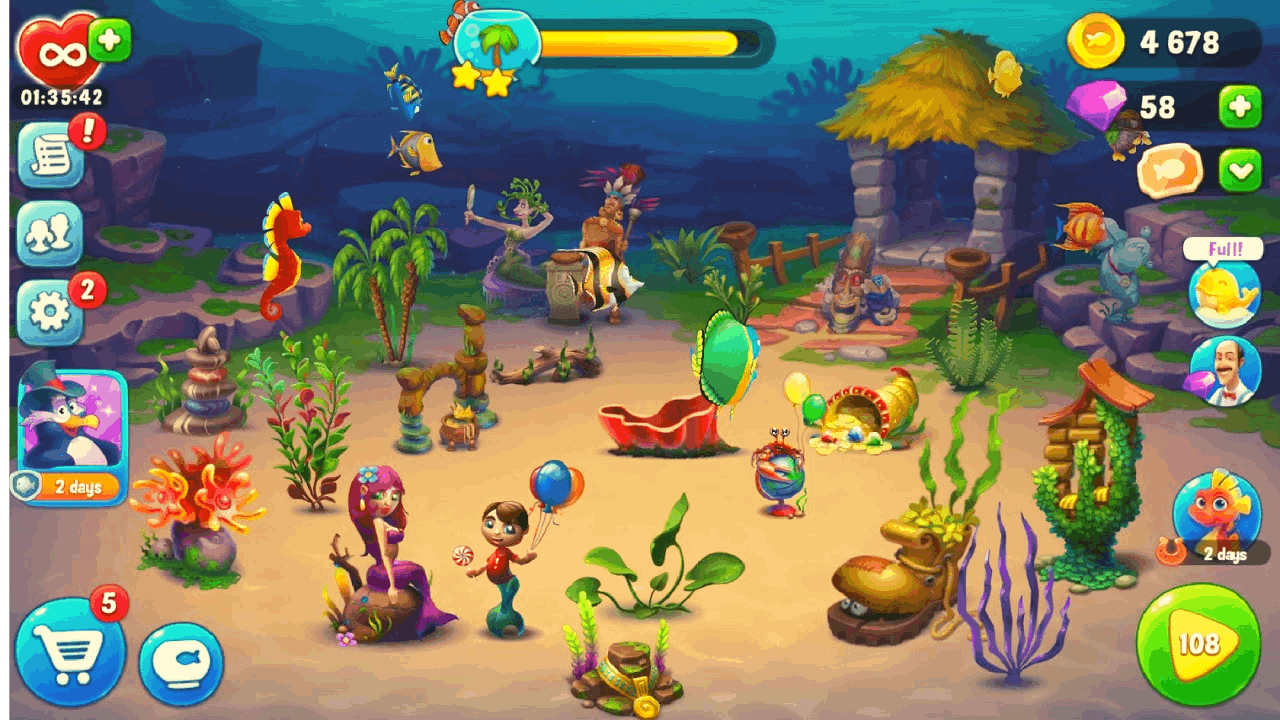 A Vintage Match-Three Puzzle Game with Exciting Twists
Fishdom is a very simple mobile game where you match three puzzle pieces to earn a point and move on to the next. The premise is simple, yet the execution remains very addicting.
Players will need to learn a few strategies to match all puzzle pieces together and get to the next level. Many players in Fishdom don't know that aside from the challenging match-three puzzle game, there are also exciting twists within the game that make it even more fun to play.
Each game will reward you with prizes such as fish and other items. You can then decorate your aquarium or fish tank with it depending on the prizes that you've earned.
There are even more surprises waiting to be discovered, so go ahead and download the game today!
How and Where to Download Fishdom
If you want to play the game right away, here's how you can download Fishdom. Fishdom is available to download from the Google Play Store for Android devices and the Apple App Store for iOS devices.
Tap Install to start downloading the game and wait until it is fully installed. You can then tap Open to launch the game and start playing.
Remember that you should only download the game on these legitimate platforms for your protection.
Look Before You Solve the Puzzle
Solving puzzles by matching same-colored pieces is the ultimate goal in playing Fishdom. All puzzle pieces are presented on the puzzle board randomly.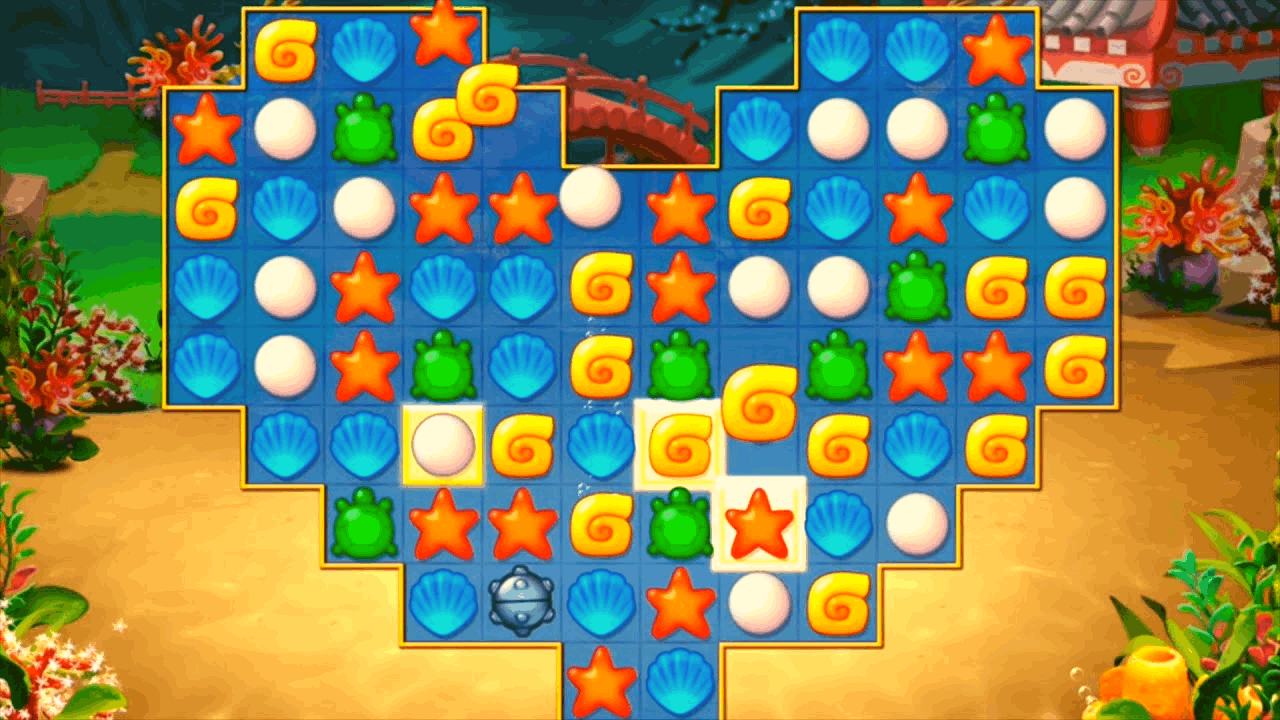 This makes mixing and matching the puzzle pieces quite challenging. Another factor that most players find challenging is the puzzle board size. The board can be very large, and it will take some time before you can match pieces together.
This can also be a benefit for players if they know how to take advantage of the situation. Try to look at the entire puzzle board before trying to match your first puzzle pieces.
This should give you a heads up on what to do and plan your next few moves.
Match Five Pieces Instead
While the goal in each level is to match three pieces together to earn a point, other goals can still help you get ahead in the game. You can increase your points by matching four or even five pieces instead.
Matching more than three pieces gives you more points. Once you get to five pieces, it unlocks even more features in the game. In doing so, you can unlock a power-up called a bomb which will destroy adjacent puzzle pieces from the point of detonation.
This will free up the entire puzzle board giving you more chances to match other puzzle pieces together. Take advantage of this every time you can match five or more pieces.
Choose the Firecracker to Crack the Game Open
Power-ups are a great addition to the game. Each of them will require you to match several puzzle pieces before you can use them. Many of them require you to match more than three. However, one power-up is quite easy to get and is one of the most powerful in the game.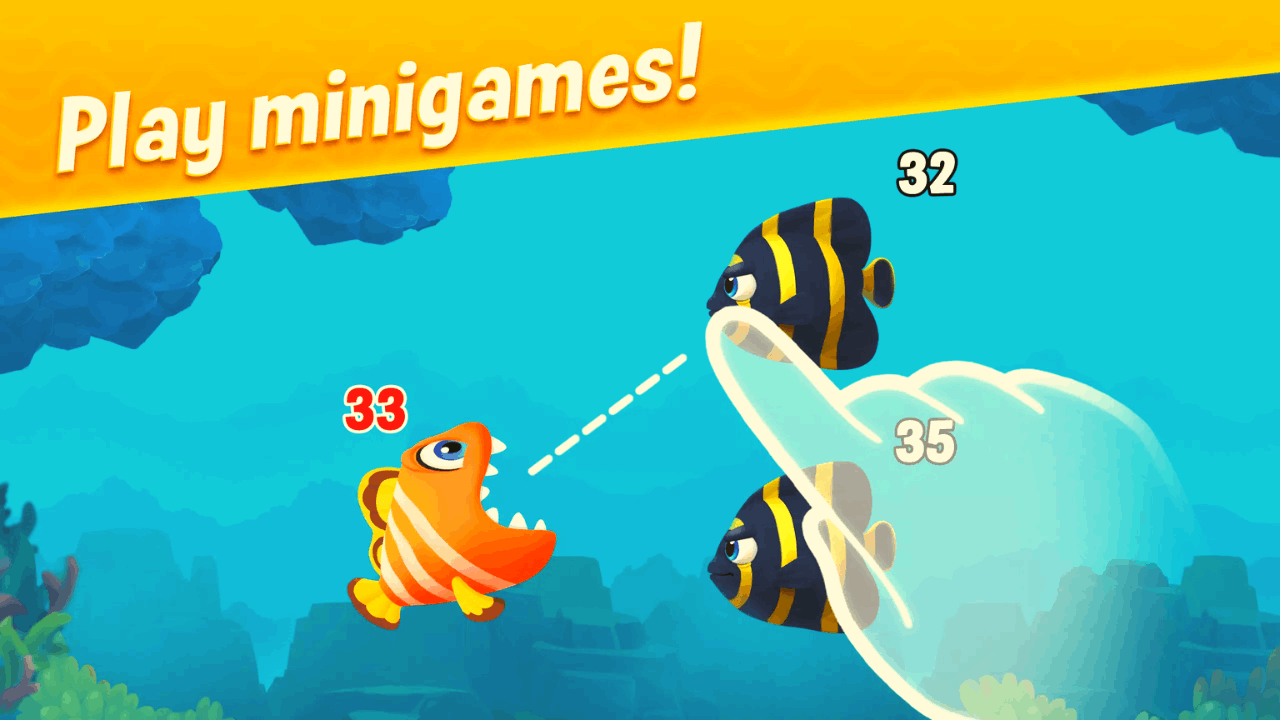 If there is one power-up aside from the bomb that you should take advantage of, it's the firecracker. The firecracker is an easy way to rattle the entire puzzle board and keep the game going.
It destroys puzzle pieces and greatly enhances your chances of solving the puzzles. This is a great way to crack the game open leading you to more points and getting cash by the end of each level.
You can get the firecracker power-up by simply matching four pieces together. It's a very simple mechanic that changes the game completely.
Use All Available Power-Ups
Speaking of power-ups, there are a lot of power-ups waiting to be unlocked in this game. Some of which help you shake up the entire board, while others help you finish the entire level. Whenever you unlock a power-up within the level, always use them to your advantage.
Use all of your available power-ups, especially during times when you don't know what to do or if you can't find any other pieces to match. Power-ups will help you overcome these tough challenges and move forward to the next level.
Most of these power-ups destroy other puzzle pieces, while some can help you earn more points.
Solve the Puzzles as Fast as Possible to Get Free Cash
Solving puzzles has a lot of benefits, especially in Fishdom. You get to receive points and have the option to move forward in the game.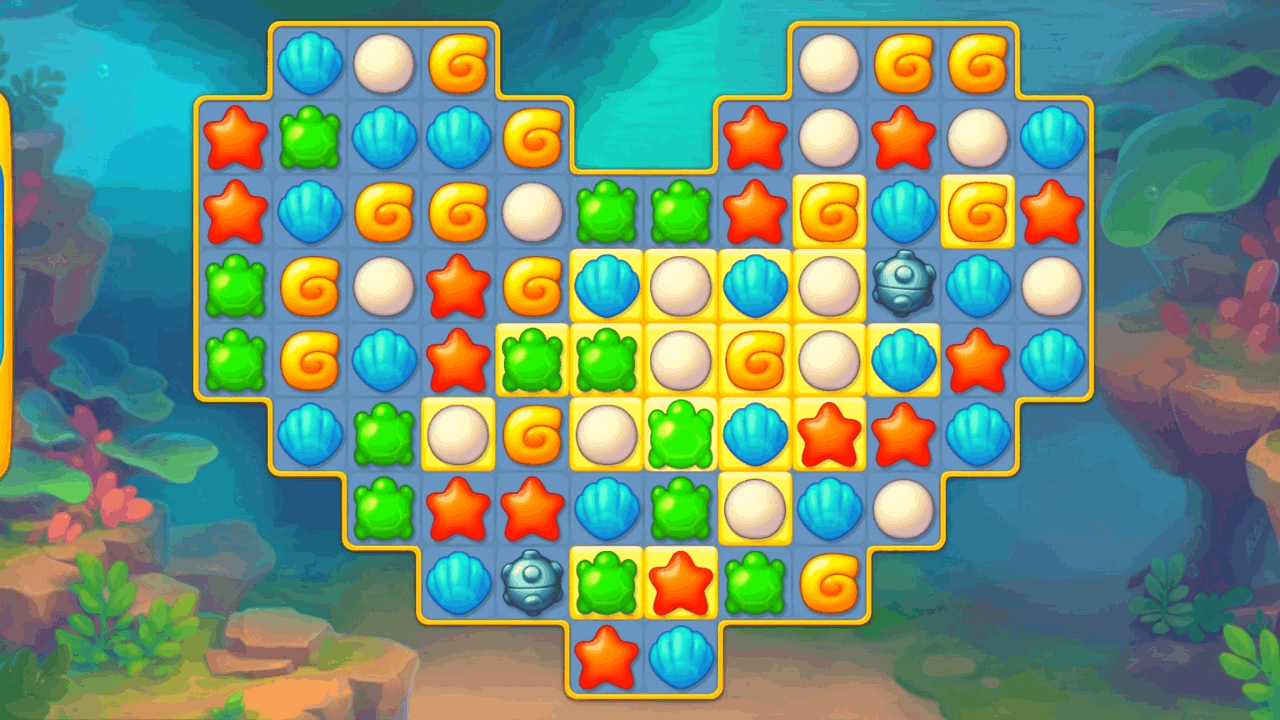 Aside from that, there is also one benefit to solving puzzles as fast as possible. This is the best way for players to earn cash for free. Cash is used in this game to purchase different items, especially for your aquarium.
You can use the cash to purchase fish and put them into your aquarium. Try to solve the puzzle as fast as possible so you can move to the next level and earn free cash.
Each level you finish means you get another chance to earn. This is the reason why you should use all available resources to help you complete each level quickly.
Decorate Your Aquarium
You can unlock a feature in the game where you can have pet fish within your aquarium. Once you have enough cash, you can then use it to purchase different things within the game, such as decorations for your new aquarium.
Use the cash that you've earned from playing the game by decorating your aquarium using all the items found at the store. Decorate your aquarium, take pictures of it, and share them with your friends to entice them into playing the game with you.
You can compete with each other and see which has the most beautiful aquarium. You can focus on using your cash to decorate your aquarium and increase its star points, or you can use it to buy new fish.
Save Your Cash and Avoid Buying Duplicate Items
Cash is one of the resources in Fishdom that is very important to gameplay. While you only need to play the game efficiently to get them for free, the best way to afford items for your aquarium is to save them.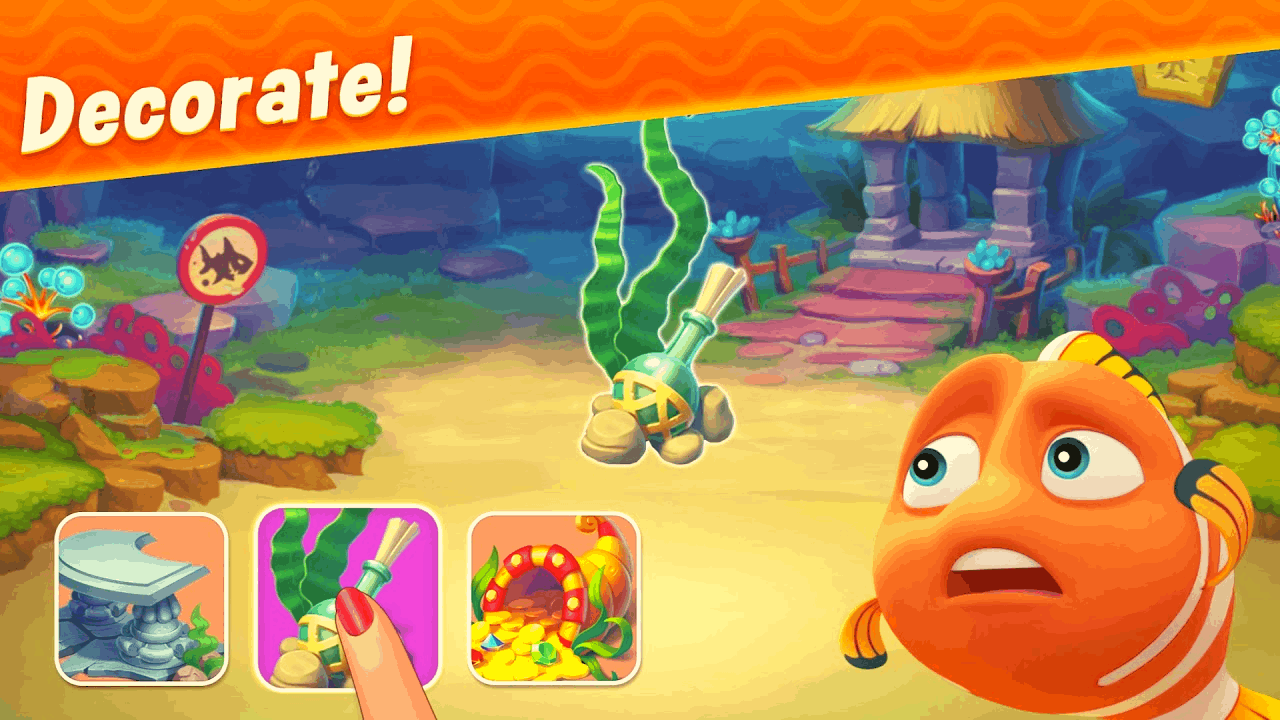 Save as much cash as possible so that you can afford the more expensive items for your aquarium. Another tip to save your hard-earned cash is to avoid buying the same items twice.
Buying duplicate items will only force you to spend on useless things. While you can still use the repeat items for your aquarium, it will look and feel repetitive.
Try to personalize your aquarium by buying different items to make it more unique.
Don't Forget to Feed Your Fish
With all the reasons for you to play the game, some gameplay aspects might seem unimportant but are still very essential. One of which is feeding your fish. It would be counterintuitive for you to set up an expensive aquarium and purchase rare fish only to neglect them.
Always make sure that your fish are well-fed and healthy. The best way to do this is to feed them when you first log in to the game, then play, and feed them again right before you log off.
Keep this as a habit, and your fish will never be mad at you for neglecting them.
Conclusion
Fishdom is a unique match-three mobile game with hundreds of challenging levels and an exciting mini-game for players to enjoy. You can even compete with other players for the chance to become the top player in the game.
Use the cash that you've earned from the tips mentioned above to liven up your aquarium and share your fish tank with your friends today.