An epic adventure awaits when you play Hero Wars, a mobile RPG where you recruit heroes, form a team, and battle enemies. You also get to fight other players in the PvP arena to showcase your skills in the game.
Unlock new features, learn new skills, and train your heroes to become the best. Or you can choose to follow the storyline through the campaign and learn how the story unfolds.
Becoming the ultimate hero in Hero Wars is not easy. You'll need to learn a lot of mechanics to understand how each hero works. In this guide, I'll teach you how to level up your hero, how to make a strong team, how to get diamonds, and more.
Level Up One Hero at a Time
Hero Recommendations
Finish the Campaign
Participate in Events to Earn Soul Stones
Get Tickets to Get Diamonds
Complete Daily Quests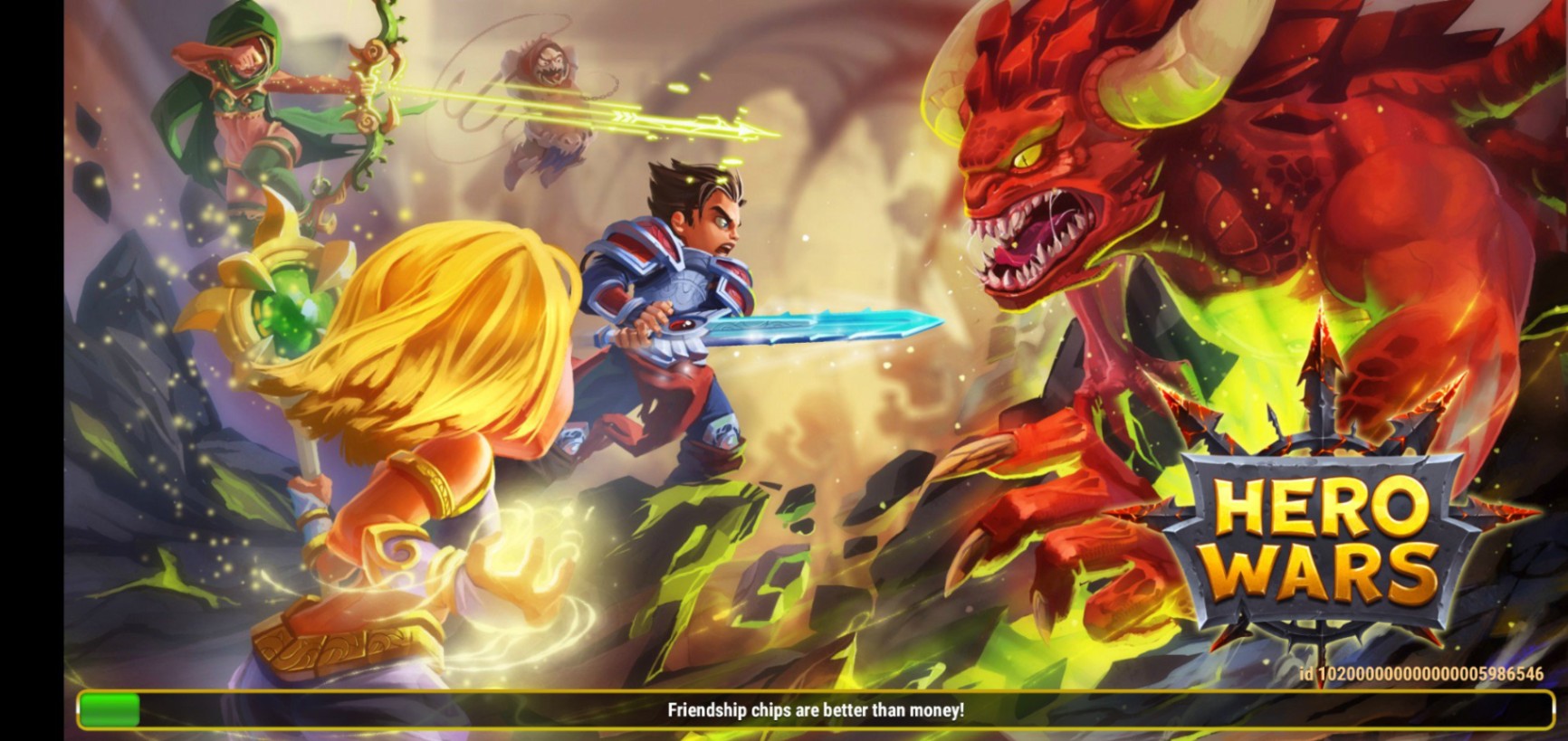 Level Up One Hero at a Time
With so many characters to choose from, I would be lying if I said I didn't have a favorite one that I use the most in Hero Wars. I often use it to battle and upgrade its gear as well as increase its stats and skills.
However, I soon find another character that becomes my favorite, and then I have to contend with more characters to level up. This tactic wasn't really working for me, so I decided to focus my efforts. Now, I level up one hero at a time, and I recommend that you do the same.
Focus on bringing one character up to a certain power level before adding another hero to your team. Having five different characters to level up can be very complicated, especially for new players.
Commit to improving one hero at a time and then slowly bring the rest up to the same level so you'll progress well into the game without having to deal with imbalanced heroes.
Look at How Your Team Works
As you begin to collect more and more heroes, you'll slowly understand that each of them has their own unique gameplay and role on the team. For example, some are dedicated to supporting the team through heals, while others are more damage-oriented.
Find a good balance between supportive characters and offensive ones. It's ideal to start with two damage dealers, a tank, support, and then a healer.
Once you get a good feel for your team, you can build your synergy from the list of heroes that you have. Never forget that you should strike the perfect balance of offense and defense to make your team well-rounded.
Hero Recommendations
Here are some heroes that I recommend you to have at the start of the game. These heroes are well-rounded and can stand on their own against many challenges.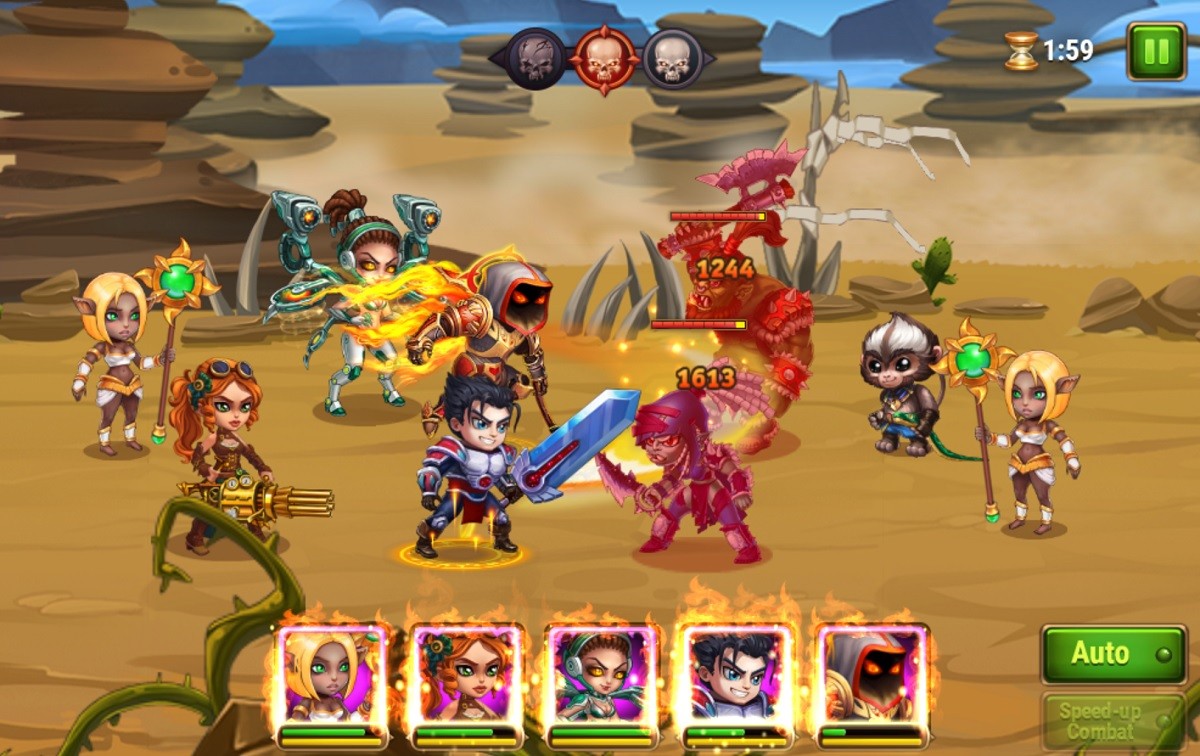 They also synergize quite well with each other making them very good for the team. First is Galahad, who can deal a lot of damage and is great at the early game.
Cleaver is a tank that hooks and stuns enemies. Kai offers a lot of crowd control in the early game and a lot of magical damage in the late game.
Then, we have Thea, who has two healing abilities, and Celeste, who can heal and deal damage while also debuffing the enemies.
Join a Guild at Level 30
The guild feature will be automatically unlocked once you reach level 30. By joining a guild, you also increase your hero's power, and many other features become available.
The Dungeon allows you to harvest Titanite and Titan potions that reward you with Titans as well as Summoning Spheres to use at the Circle of Summoning. The Heart of Power enables you to use Runes to upgrade your hero's stats.
To get the Runes, you will need to be active with your guild to get guild activity points.
Finish the Campaign
I wouldn't blame you if you become captivated with the game and want to finish all the game modes at once. But the best way to progress in the game is not to play everything at once.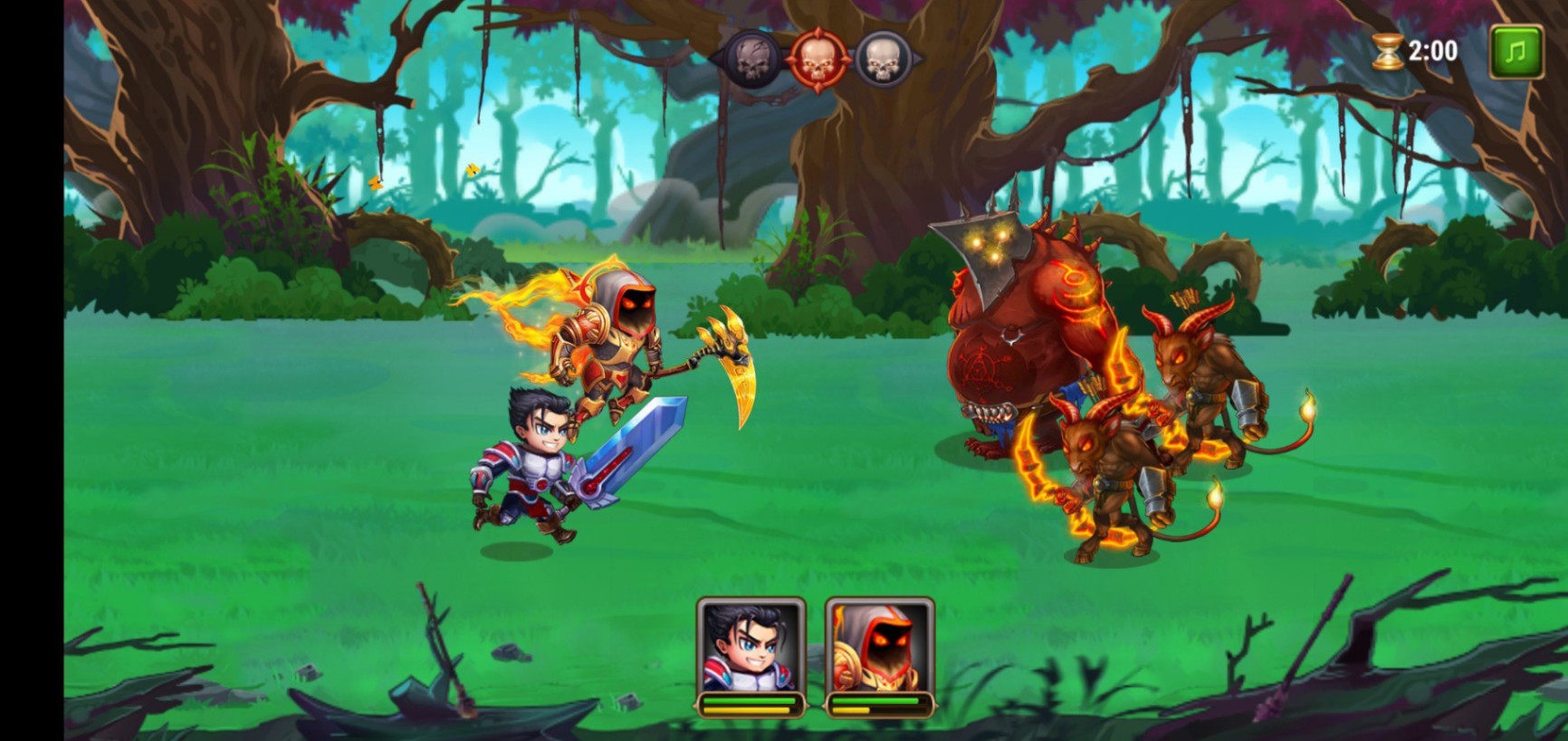 Try to start the campaign and finish it as soon as you can. Progressing through the campaign will unlock new features and content as well as unravel the main storyline of the game.
This way, I've also received materials that allow me to upgrade my team and provide exclusive rewards for them to reach a certain power.
Check the missions list and see what other rewards are waiting for you when you play the campaign.
Start Grinding and Get Better
There will be times in this game that you'll hit a wall and start to feel like you're not progressing as much as you should be. It's normal to have this experience in an RPG like Hero Wars, based on my experience.
Whenever I hit this wall, I often try to find different solutions. Typically, the most effective one that I've encountered is to simply go back to the earlier levels and grind for experience until I'm able to progress further in the game.
The increasing difficulty in this game can become a roadblock to your progress, so might as well go back and try to farm for experience to get better.
Participate in Events to Earn Soul Stones
Unlike other RPG war games, I don't need to pray hard to get the character that I want. There is no random drawing of characters in this game, and for that, I am truly thankful.
In Hero Wars, I only need a few materials to choose and summon the character that I like. Soul stones are the main material needed to summon a new character in the game.
For some, it can be very difficult to find soul stones if you don't have the money to purchase diamonds. For this, there's an alternative method to get soul fragments, and that's by participating in events.
Hero Wars regularly promote and conduct events that help players earn soul stones. Take advantage of these events to earn soul stones so you can immediately get the character that you want.
Hold on to Those Stones
Many new players are tempted to spend all of their soul stones in one go just to get their favorite character. I don't usually recommend doing this.
Be more conservative and try to hold on to those stones as much as possible. Save them until you get enough to purchase the more powerful characters that require a lot of soul stones.
It is a good idea to spend your soul stones wisely and be particular about choosing your character.
Get Tickets to Get Diamonds
Diamonds are the in-game currency that can only be acquired through the use of real money. However, I know how you can get diamonds without having to spend cash in this game.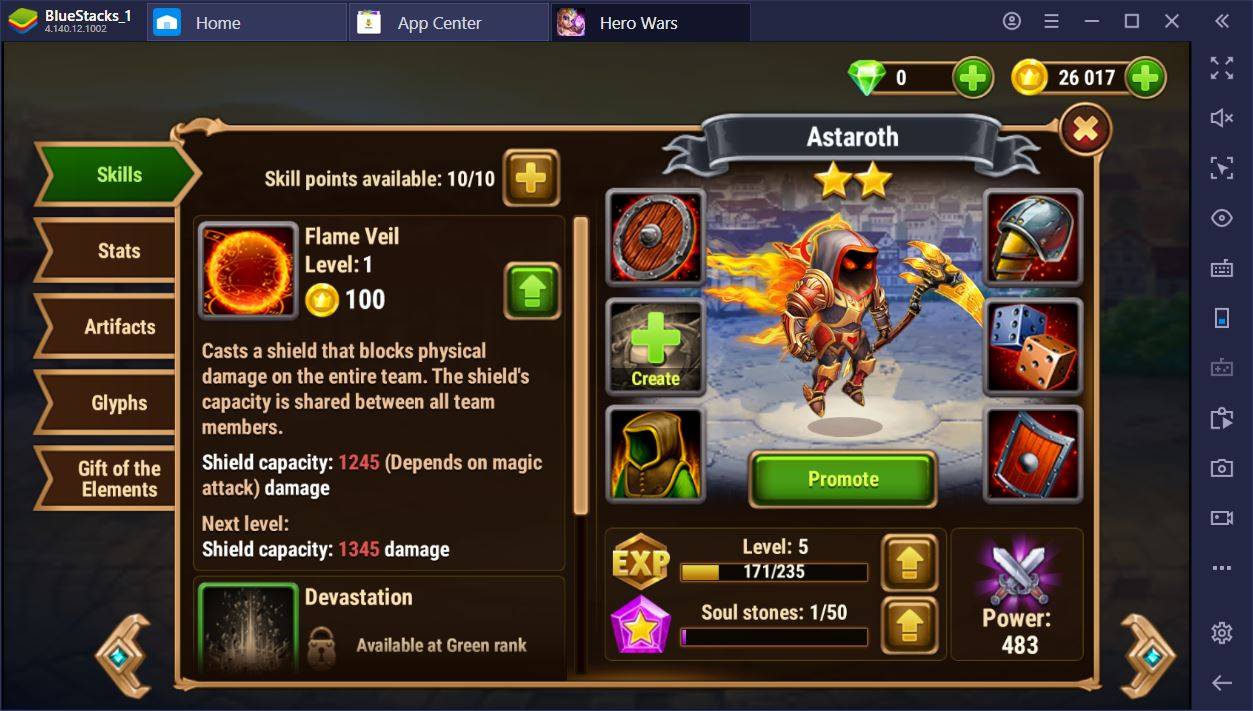 The first thing you need to do is to check the Theater where you can watch video ads. You'll then receive tickets after watching a video ad.
Keep on watching more videos if you want to earn more tickets. Use those tickets to get Diamonds and use them to purchase higher, more powerful characters in Hero Wars.
Use these diamonds to open Heroic chests, which give out exclusive rewards.
Raid and Get Rewards
Raid is a feature in the game where you can replay a stage that you've already cleared.
The only requirement for this feature to be unlocked is when you've already cleared the stage and have earned three stars.
A Raid function will appear, and you can raid a stage three times a day through the use of the tickets you've earned at the Theater.
Complete Daily Quests
Increasing the team level also increases your max hero level. This is why it is important to learn how to improve your team level.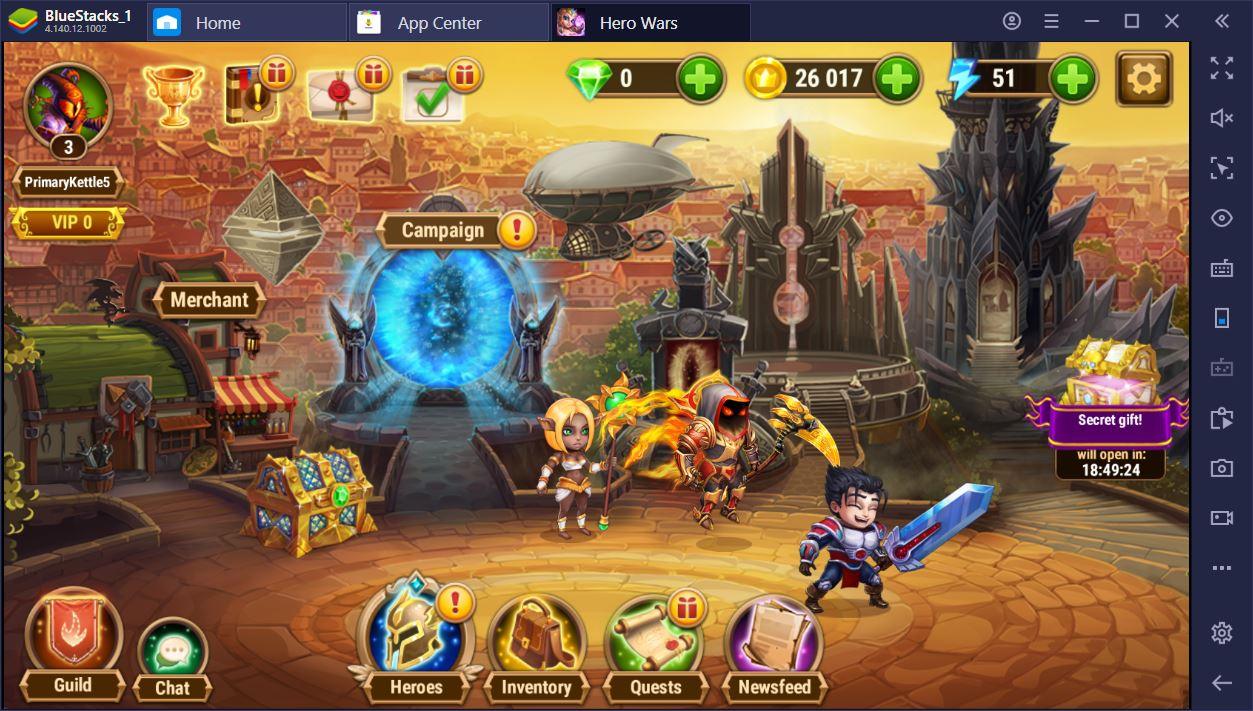 I recommend doing the simple daily quests as it allows you to earn team experience that will help increase your team level.
Do this every day and make sure you complete all the quests to receive the highest team experience points possible.
Apart from team experience, you also get gold coins, raid tickets, energy, chests, and more rewards.
Tips to Make Your Heroes Stronger
Making your heroes stronger is the only option to make it to the end of the storyline in the campaign. Having the strongest heroes will also make you a formidable player in the Arena.
To make your heroes stronger, try to level them up using experience potions you get from rewards, equip better gear and promote them as much as possible. Increase the team level and upgrade their skills whenever appropriate.
Get better skins for your heroes and upgrade them as well. Don't forget to equip them with artifacts and upgrade each hero's attributes such as strength, intelligence, agility, and others.
Conclusion
I know it's quite complicated at first to absorb everything when it comes to playing Hero Wars. Hopefully, the tips above should help make your experience in playing the game much easier. Check out Hero Wars on the Google Play Store and the App Store.