Released by DH Games, Idle Heroes is an idle role-playing mobile game where I assemble a team of heroes and lead them to battle against the forces of evil.
With more than 200 heroes to choose from, each of them has its own set of special skills and talents that make each team unique and powerful. Choose your heroes wisely and take them to battle through a turn-based combat system.
If this is your first time playing Idle Heroes, I'm sure you'll have a lot of questions. Check out my guide below and see where you can start in the game, learn how to earn gems, where you can spend them, and more.
Avoid Using Heroic Summon Scrolls to Complete Daily Quests
The Secret to Getting a 5 Star Hero Early On
Get Free Gems Everyday
Skip the Arena Mode
Always Check the Marketplace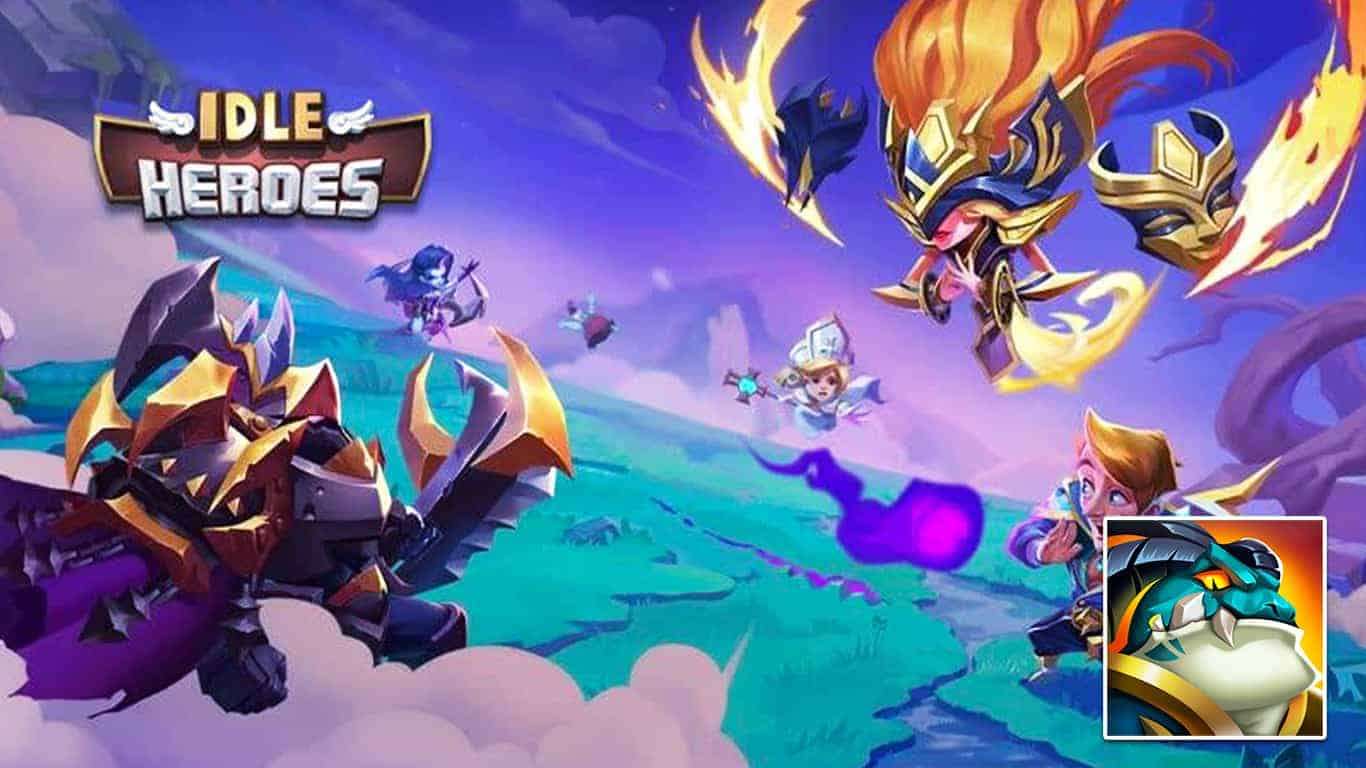 Avoid Using Heroic Summon Scrolls to Complete Daily Quests
Completing daily quests is important for progression, especially for new players. However, most new players often make the mistake of using their Heroic Summon Scrolls to immediately complete daily quests.
There is no need for you to use such a valuable item once you have a full team of 5-Star heroes. I've cleared all the daily quests with just my team. I only use the scrolls once I have some extra in my inventory to complete the quests.
Make sure to check your account every two days to see if you have received the scrolls. Try to save as many Heroic Summon Scrolls as possible since you'll be using them on events such as Heroic Summon Events.
Try not to use these scrolls to complete specific quests such as the Casino Quest or Heroic Summon Quests.
Don't Waste Your Gold
Another thing I noticed with new players is the extravagant spending early in the game. I understand that the game does reward new players with tremendous amounts of gold early on, but this should be saved until the mid-game.
Gold is often used to upgrade Guide Techs, Pets, Stones and even help level up your heroes. Never use them for anything in the early game, and instead, focus on saving them until you reach the mid-game.
Try to forge the cheapest item early on since you'll only be discarding them later. Try to avoid leveling up all of your heroes immediately. If they can still duel and receive minimal damage, they're still good for fighting. Save your gold!
The Secret to Getting a 5 Star Hero Early On
Many players expect to get 5-Star heroes early in the game. Oftentimes, they would rather spend all of their resources to pull a 5-Star hero even before level 30.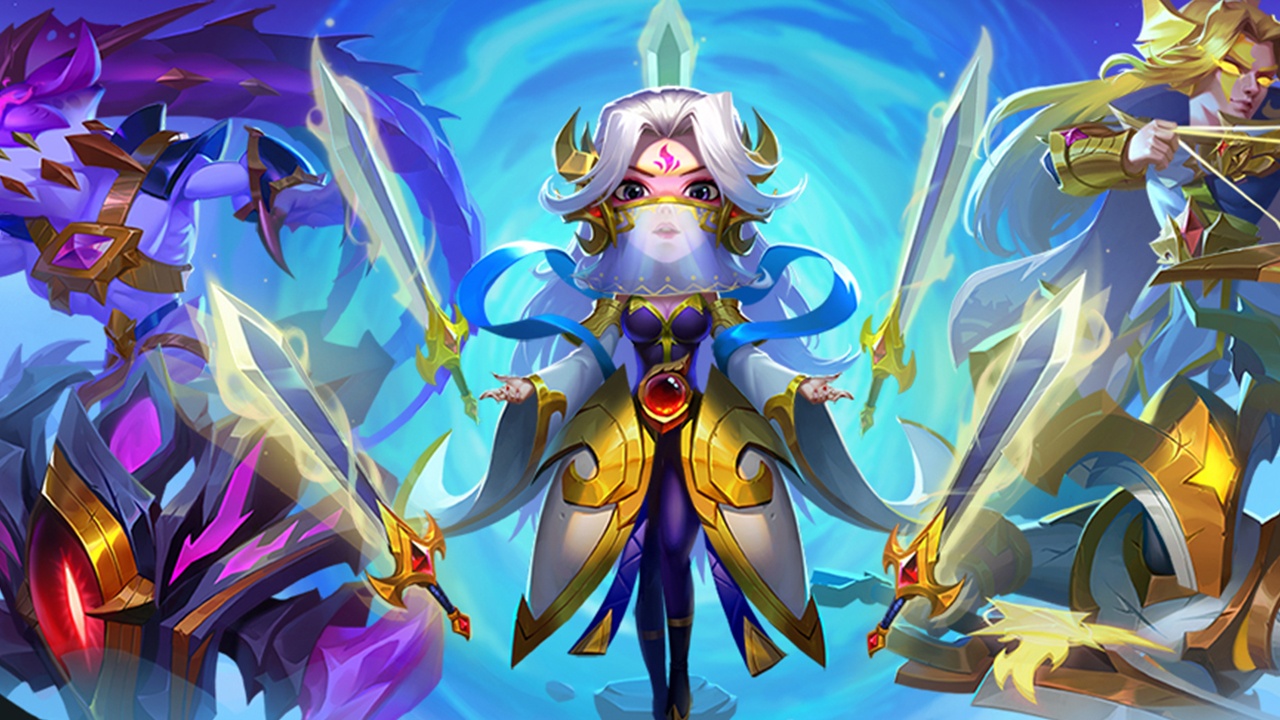 You don't need to have a 5-Star hero early on. However, having one does make the early game very easy. To avoid spending your resources on a 5-Star Hero early on, there is a secret method.
All you have to do is register an account using an email address. You don't need to link your social media account to do this. Any email address that you own is good enough to create an account and receive a 5-Star hero immediately.
If you receive the same hero, the game will reward you with a 6-Star version instead.
Disassemble Heroes to Get Soul Shard Stones
The early game will often be very easy. During this time, I have gathered enough 4-Star heroes in my roster to progress through the early game. Once I've reached the mid-game, enemies become difficult to deal with, so the need for higher-tiered heroes becomes imminent.
One trick I've learned when trying to get 5-Star heroes is to disassemble the lower-tiered ones starting from 4-Star and below. Keep on disassembling them to earn Soul Shard Stones so you can purchase 5-Star heroes with them.
It is highly recommended that you purchase heroes like Demon Hunter, Gerke, Walter, and Iceblink using this technique to create a good line-up of 5-Star heroes in your roster.
Get Free Gems Everyday
Gems are very important if you want to excel in this game and be able to upgrade your heroes to make them stronger.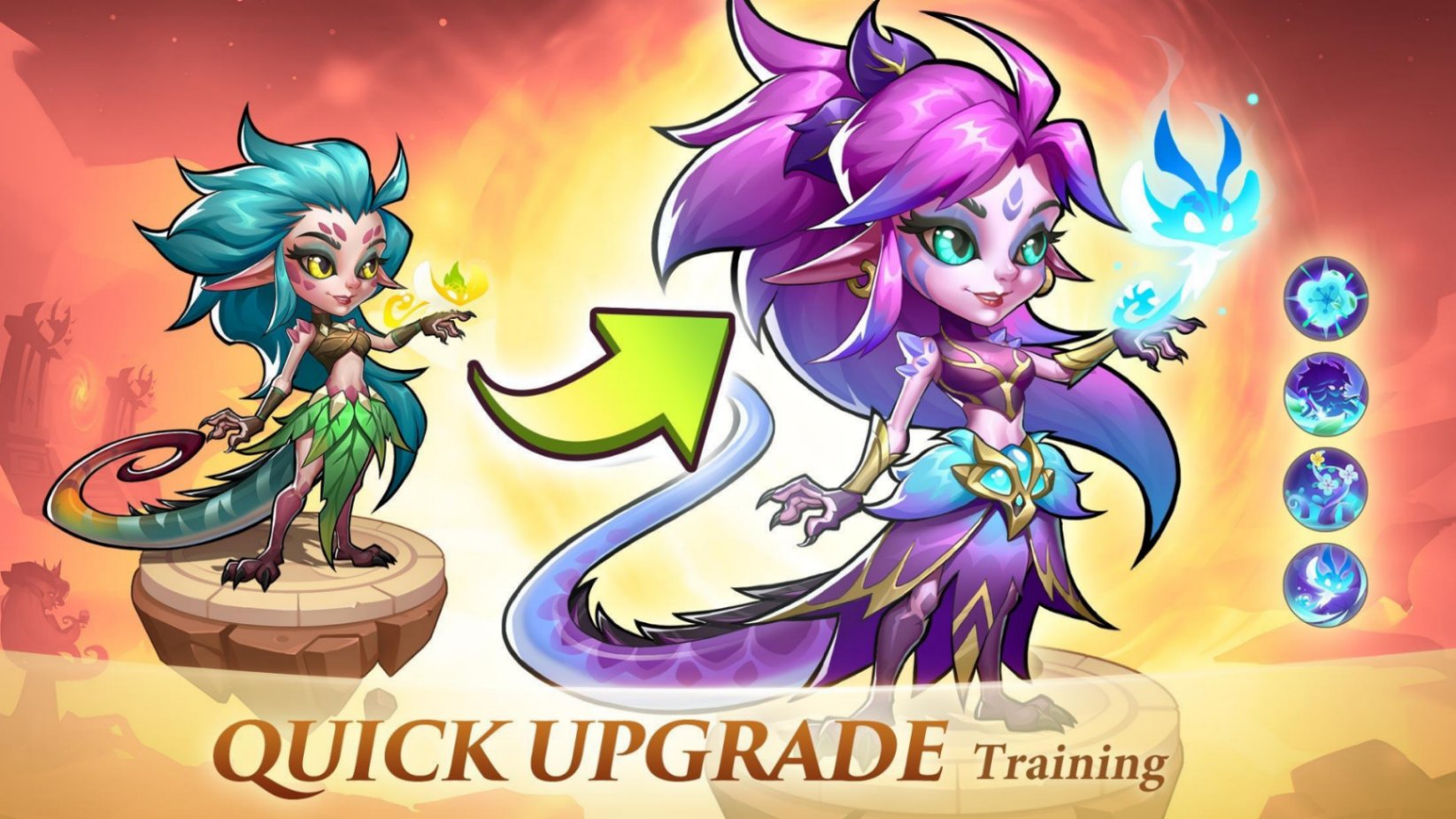 Gems are commonly used to unlock many other features in the game that are not accessible through the use of gold coins.
If you want to acquire gems immediately, I suggest you purchase them with real money. Those who don't want to spend a lot of cash in the game will have to earn their gems by logging into the game every day.
There is an option at the bottom of the home screen where you get to receive at least 100 gems every day. This is one of the fastest and easiest ways to earn gems in the game based on my experience, and it stacks with other sources as well.
Save Your Gems for Gembox and Blacksmith Events
Free-to-play players will always have a tougher time getting gems in Idle Heroes. They will have to wait to collect gems every day from different sources. I suggest that once you have enough gems, try to save them for specific events like the Gembox or Blacksmith events.
These events offer a chance for you to earn more gems or craft new items through the use of gems. Most of these items are exclusive and are quite powerful. There are a lot of events to participate in the game, and each of them will reward you with different items.
The monthly Tavern event provides Star Hero Shards, while the Fusion events allow you to get gold, Magic Dust, Monster Souls, and Super Wishing Coins as rewards.
Skip the Arena Mode
The Arena mode is a great game mode to play with another player. I have tons of fun when playing, especially against a good player with a good roster of heroes.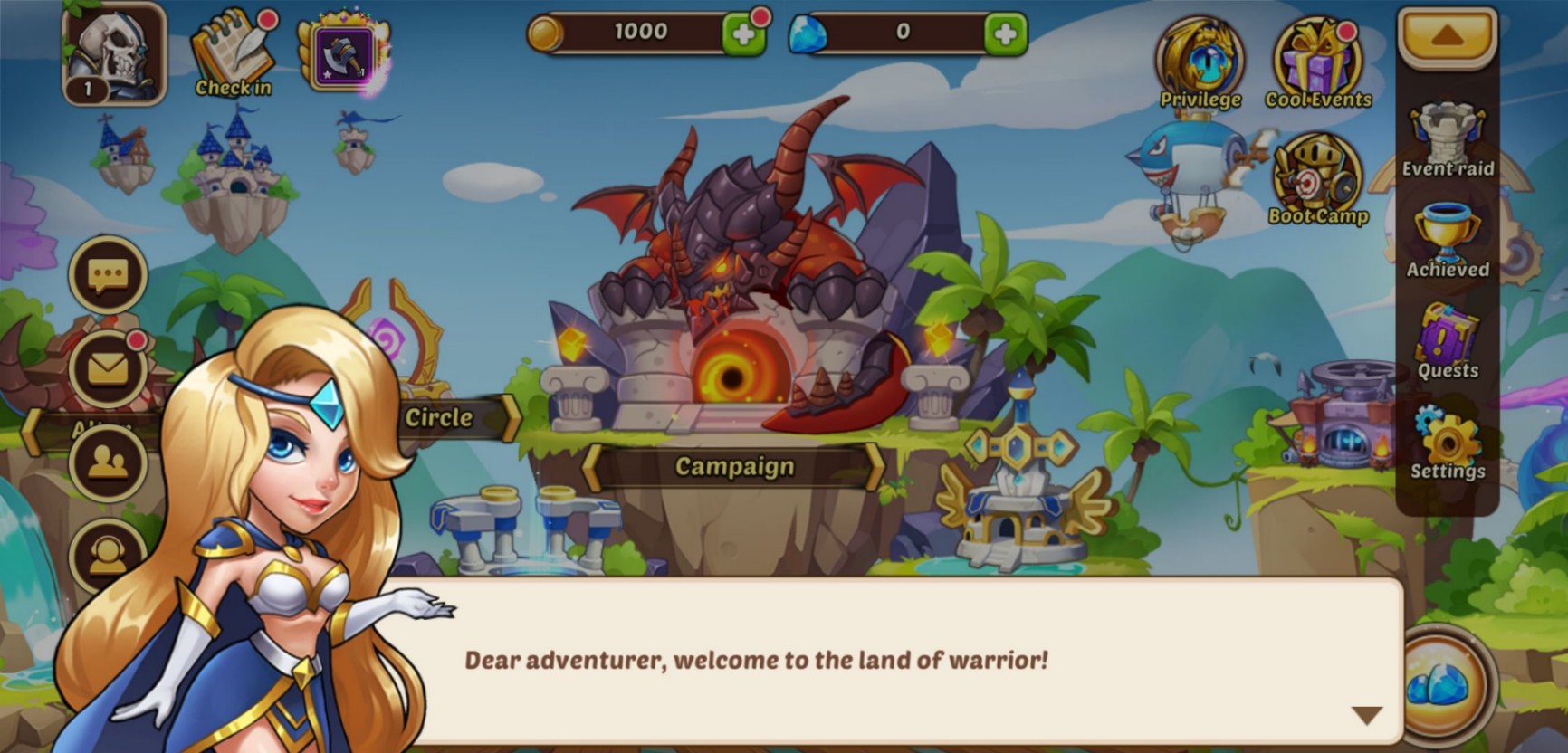 However, playing Arena mode can get boring quickly if I don't get to face challenging players. There's also the issue with matches being very long which can take up a lot of time.
I suggest skipping the Arena mode and getting the results immediately without having to watch the entire battle play out. Tap the option Skip the Battle to see the results immediately.
This way, I can automatically go and challenge another player and still get the prizes without having to spend a lot of time.
Send Hearts to Your Friends
Hearts provide extra life to your team. One good way to earn more hearts is to add a friend.
I don't want to link my social media account in the game to avoid getting spammed by notifications, so I usually search for my friends through the Friends menu found at the left corner of the screen.
I ask for their profile and then send a request so they can be added to my friend list. By then, we can send and receive hearts, and if I'm able to add at least 10 friends, I'll get even more hearts.
Always Check the Marketplace
The marketplace is a great place to find some of the best and most valuable items to help you in the game. I often check the marketplace for some of the unique items I can purchase using the gems I've earned.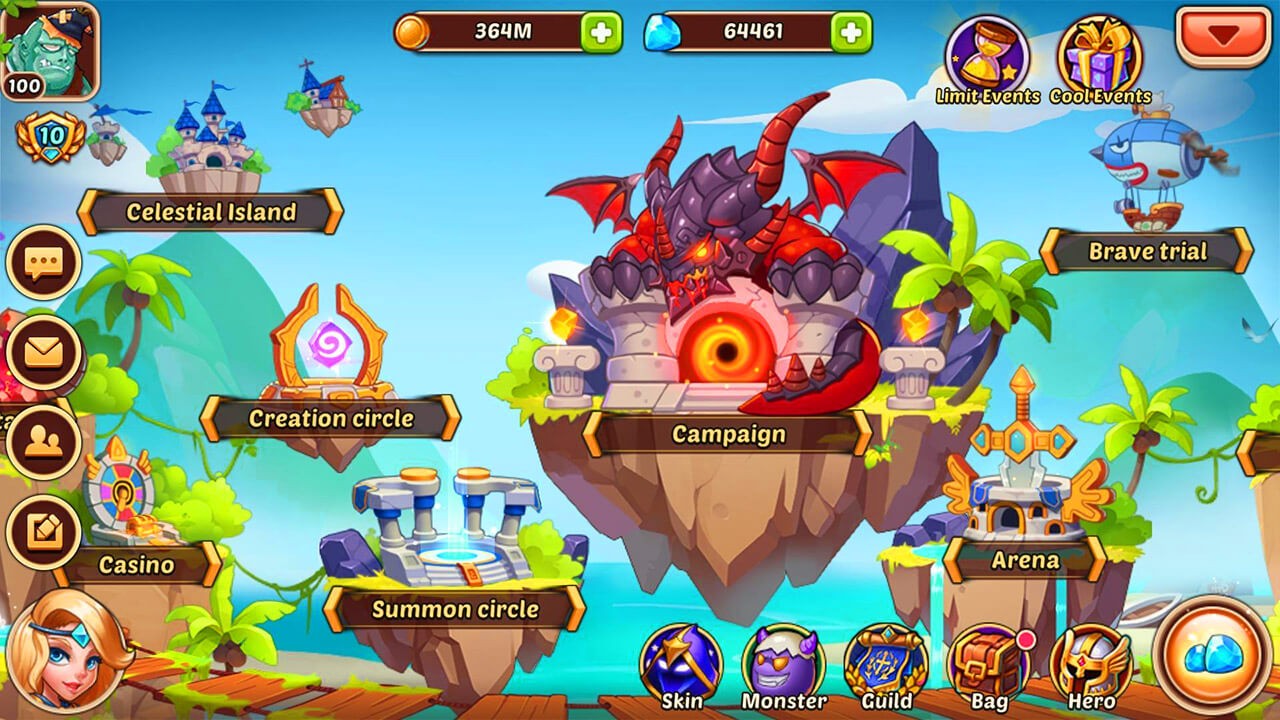 Don't worry if you don't have enough gems. The marketplace is also open to players who only have gold coins. There's plenty of items to go around, and you'll soon find a deal that will help you in the game.
Always check the marketplace every three hours. If you already have gems, you can immediately update the marketplace and grab those deals much faster.
Whenever I see a good deal, I will always take them without hesitation, even if it would cost me a lot of gems or gold. It's always worth it to purchase these items at the marketplace.
Farm for Resources by Playing the Campaign
The Campaign is the best mode to increase your level but what many players don't know is that it is also a great place to farm for resources. Completing each level in the Campaign unlocks even more features and areas in the game.
Gain access to many areas like the Tower of Oblivion and the Brave Trial. Playing the Campaign also helps you progress through the game by gaining experience points.
Try to use the auto-battle feature and begin collecting coins, spirit, and experience points to level up and increase your hero's power.
Conclusion
These tips and recommendations should help you, especially in the early game, where everything can be overwhelming. Playing Idle Heroes should be a fun experience for new and old players, and the guide above should help you make it even more enjoyable.
Make sure to follow the tips focused on how to earn gems to help you get a good team and progress in the game much faster. Idle Heroes is now available for download on all mobile devices through the Google Play Store and the App Store.