Gameloft is one of the leading mobile gaming companies that produce the best racing games in the world. Their games range from racing to adventure games, all of which are top-notch in terms of quality. One of which is the highly popular Asphalt 9: Legends.
Asphalt 9: Legends is a mobile racing game where players take the wheel and drive some of the most popular cars from renowned manufacturers all over the world. Drive, drift, and boost yourself to the finish line to earn rewards.
While the game offers crazy action, there are times when the game can become a challenge. Don't worry as you'll discover how you can win more games, get free credits and tokens, and a few tips and tricks with the article down below.
Learn How to Drive Through the Race Tracks
Collect Free Tokens and Credits Through Achievements
How to Use the Nitro Boost to Your Advantage
Prioritize Upgrading the Cars That You Need
Always Connect Your Account With Your Social Media Profile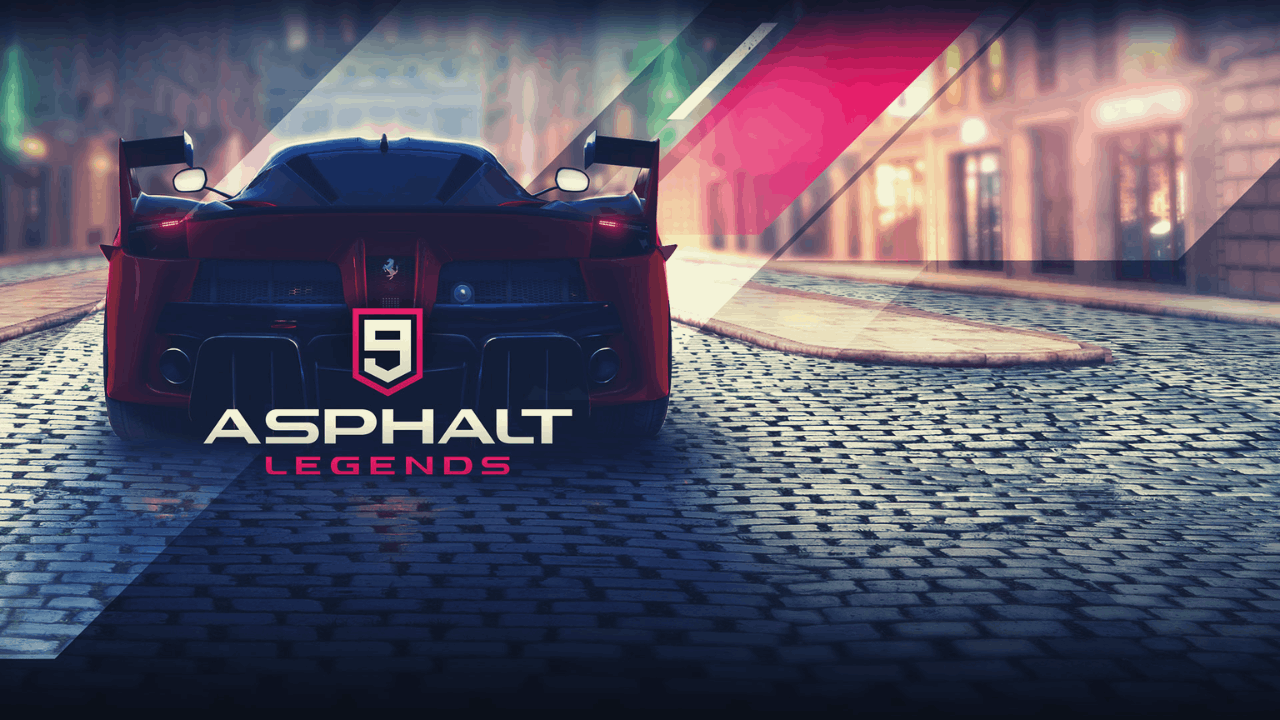 Learn How to Drive Through the Race Tracks
Learning how to drive in Asphalt 9: Legends is quite easy. There are only two controls that you need to worry about, and the rest should be easy.
The game automatically does the acceleration and braking by default, and this only leaves you to control the direction you want to go. In addition, you can choose how you want to drift or tap the nitro button.
This makes navigating through the race tracks much easier but do not be fooled by the simplicity of this mobile game. You still need to master the art of drifting and when to use your nitro boost during the race.
Time each drift and take the time to practice it a lot, especially in the early stages. Once you have mastered the art of drifting, you will be unstoppable in this game.
Unlock More Game Modes by Getting Flags
Every time you complete a challenge or simply win a match, you get flags. Flags are important aspects of the game. The more flags that you have, the more prizes you win, and you also have bragging rights to how many flags you have.
Flags are also carried over to the next season, which will help you earn more rewards. You unlock more game modes in Asphalt 9: Legends whenever you get to earn flags. You unlock Clubs when you have 10 flags, Events when you collect 15 flags, and the Multiplayer game mode when you have 20 flags.
These game modes, especially Events, will help you receive special prizes if you do play and win on this game mode. Be sure to win a lot of matches so to earn flags, unlock game modes, and win more prizes.
Collect Free Tokens and Credits Through Achievements
After each race, you will receive a little bit of a reward for getting into the top position. Most of the time you'll receive tokens which are just one of the many currencies used in the game.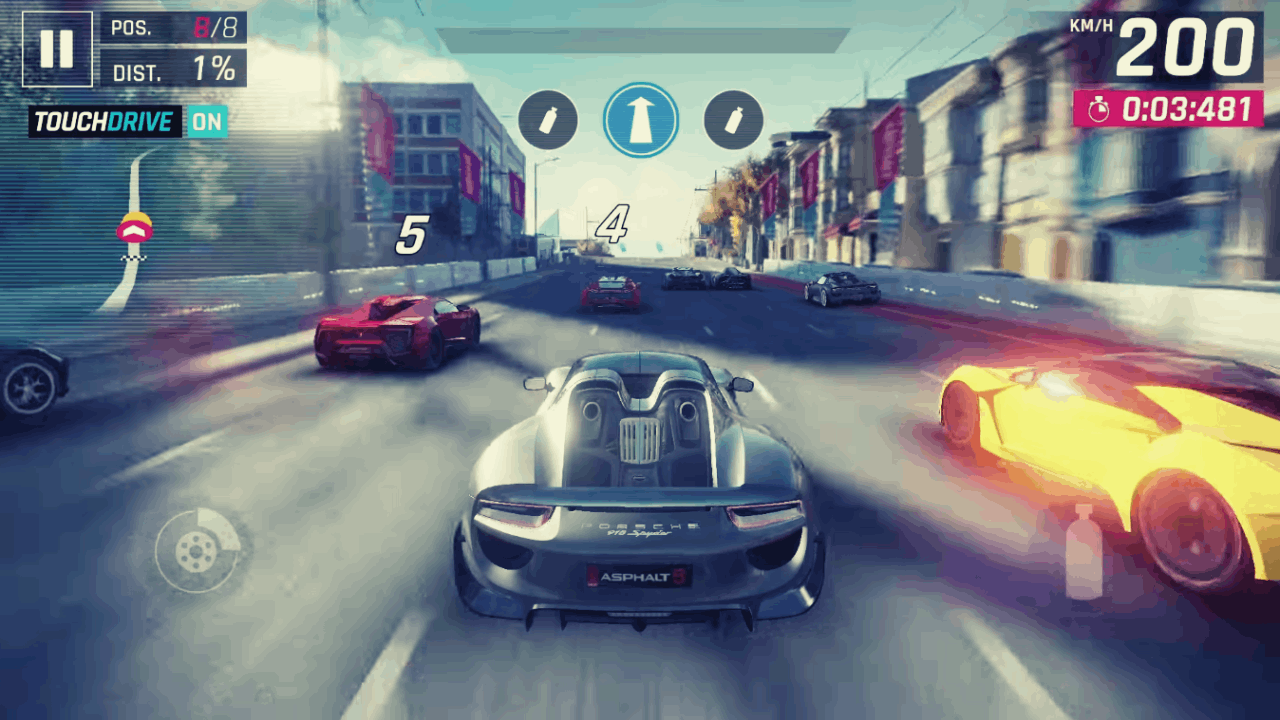 You can use these tokens at the in-game store to purchase cosmetic items to make your car look better. You should also notice that there is a list of achievements that you need to complete.
This list can also be viewed in the Achievements tab and every time you complete one, you'll also receive extra rewards, which contain free tokens and credits depending on how many you've done.
Make sure to read all the achievements on the list and complete them while playing the game. The more achievements you unlock, the more tokens and credits you get to receive.
Don't Forget to Collect Your Free Packs
There are also other ways to get free tokens and credits in Asphalt 9: Legends. One of which is through free packs. Free packs are given every time you log in to the game or when you unlock an achievement. You can also get them when you watch video ads within the game.
Always open your free packs whenever you get them, as they often reward you with different prizes. Most of the time, they might just be free tokens or credits, while they can contain blueprints other times.
You can then purchase a Premium pack if you have enough tokens which will grant you even more blueprints. You are also guaranteed to receive three cards for every Premium pack that you purchase, so be sure to collect as many tokens and credits from different sources as possible.
How to Use the Nitro Boost to Your Advantage
Another amazing feature in Asphalt 9: Legends that is quite common in most racing mobile games today is the nitro boost. The nitro boost allows you to have a quick burst of speed.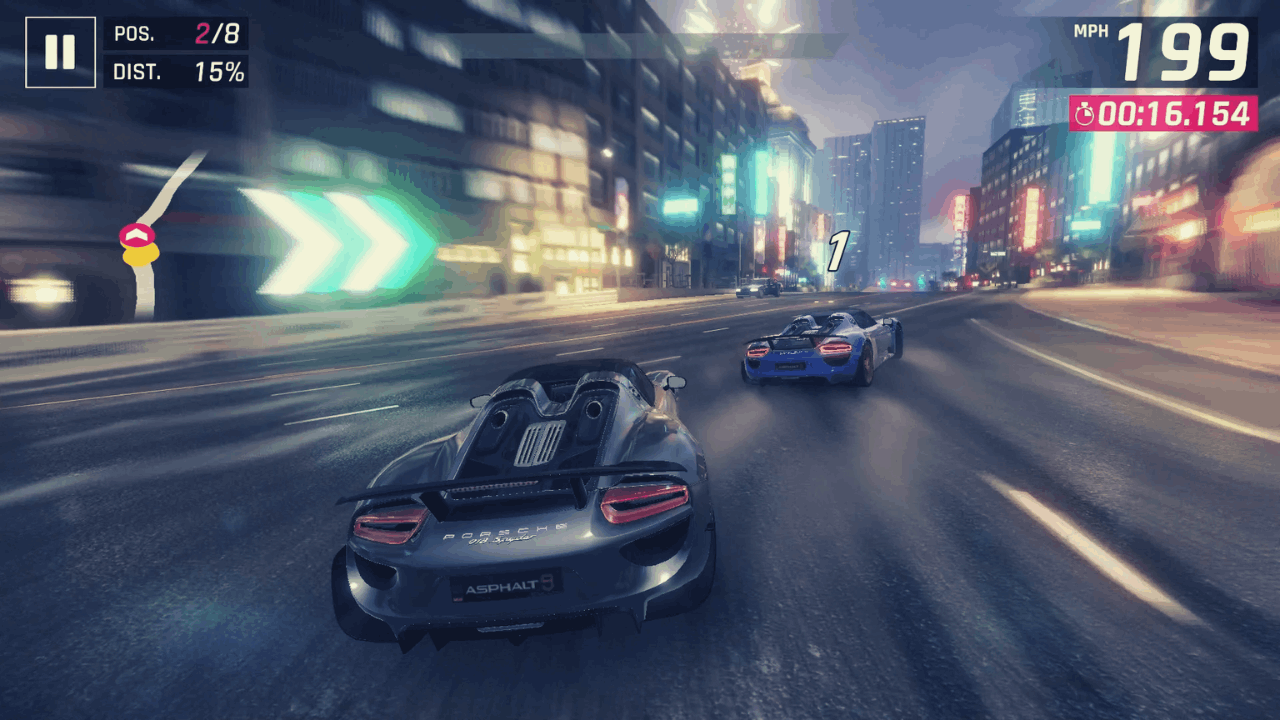 Upon using it, you will accelerate faster, but it will also take some time before you can use it again. This makes using the nitro boost interesting since you must first identify how and when to use it to your advantage.
Some players often want to use their nitro boost the moment it is available just to get ahead of their competition. Others want to save it near the end so they can guarantee a win.
The best way to use the nitro boost to your advantage is when an opponent is near you, and you want to create as much distance as possible.
Here's How You Can Activate Your Nitro Boost Fast
While drifting is the key to winning this game, the nitro boost can help you gain an advantage against your opponents. Nitro boosts need time for it to be activated, but you can also try and collect the nitro cans scattered on the race track so you can fill up the meter much faster.
You can see blue or gold cans of nitro boost on the track. Upon collection, blue cans will give you a small amount, while gold ones will give you a larger amount. You don't need to go out of your way to collect these cans as they will slowly fill up anyway.
Just take whatever comes your way and leave the ones that might pose too much danger to your position in the race.
Prioritize Upgrading the Cars That You Need
Now that you know how to earn tokens and credits, it is time to put them to good use. Many players collect these resources to purchase many items in the game, but you should be prioritizing spending your credits on upgrading your car.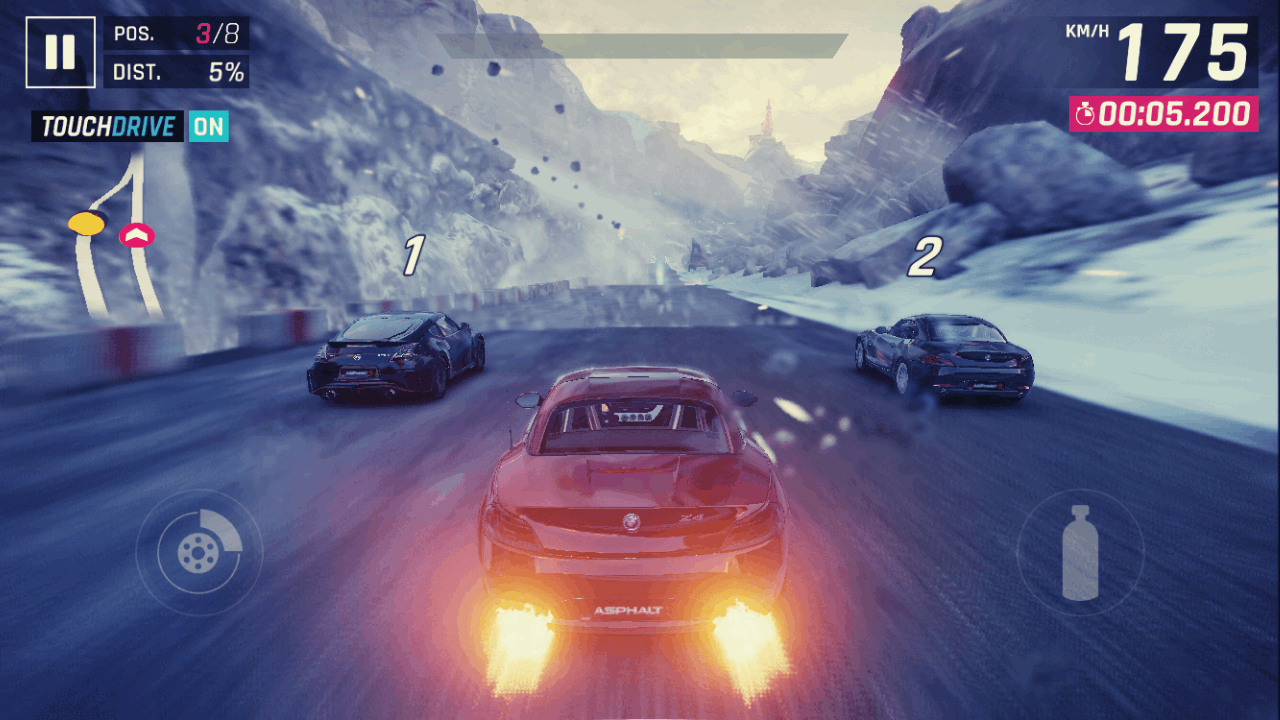 You might be wondering which car you should focus on upgrading. The best way to answer that is to focus on the car that you are using to win matches.
It doesn't matter a lot if you choose the most basic car. What matters is how you upgrade it to become competitive enough against all of the other cars.
You don't need to worry about having the best and most aesthetically pleasing car in the early stages of the game. You just need an upgraded car that will help you win more matches.
Change the Settings If You Want to Have More Control Over Your Game
Players can change the control setup of the game. There are different options for you to drive your preferred car, which will also change the way you play the game.
The Touchdrive setup allows you to focus on drifting and nitro boosting, but if you truly want to have more control over the game, you can change that to manual. This is where you get to truly immerse yourself in the Asphalt experience.
In this setup, you can tilt your device to steer the wheel and you also have complete control over the acceleration and brakes in the game.
Always Connect Your Account With Your Social Media Profile
Whenever you first log in to the game, the game will give you the option to play as a guest or log in directly using your social media account.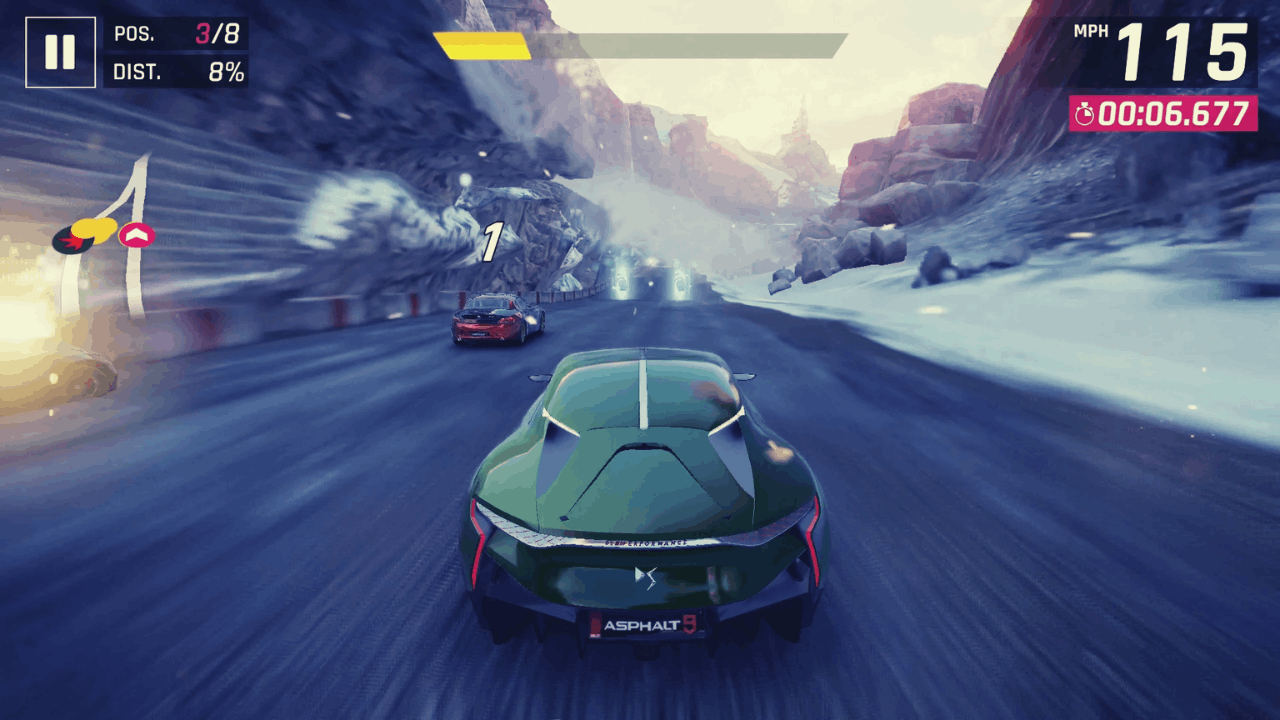 Always make sure that you log in using your preferred account and never log in as a guest. This way, you won't lose all of your progress in the game.
It's very frustrating for players who have played for hundreds of hours only to find out that they have to start from scratch once they realize they were only playing as a guest.
Where to Download Asphalt 9
Asphalt 9: Legends is now available to download at the Google Play Store or the Apple App Store. To download, search for the title of the game and tap Install to begin the download process.
Wait until the game is fully installed on your mobile device before you tap Open to launch the game.
Conclusion
Asphalt 9: Legends is another great addition to the Asphalt series. With its amazing graphics and high-octane action, players will have non-stop fun with the game.
Don't forget to employ all the tips and tricks you've learned in this guide to have a better time playing the game.