There are times when you just want to relax and find a less stressful mobile game to play. If you're looking for a good puzzle game to play to ease your mind, Cut Grass is a mobile game that you'll surely want to try.
Cut Grass is a puzzle game that offers satisfying gameplay and a calming experience. All you need to do is use the blade to cut grass, clear each patch, and win the game. There are no hidden challenges or difficult objectives to surpass in this game.
The game is a very unique puzzle game and while it does have a simple premise, many players might experience a steep learning curve. This guide will help you learn more about the game, offer some tips and tricks to help you clear each patch efficiently, help you learn how to get diamonds, and more.
The Gameplay Basics of Cut Grass
Always Prioritize Nearby Grass First
Take Advantage of the Reset Button When You're in Trouble
Here's How You Can Get Diamonds in Cut Grass
Play Cut Grass to Have a Relaxing Time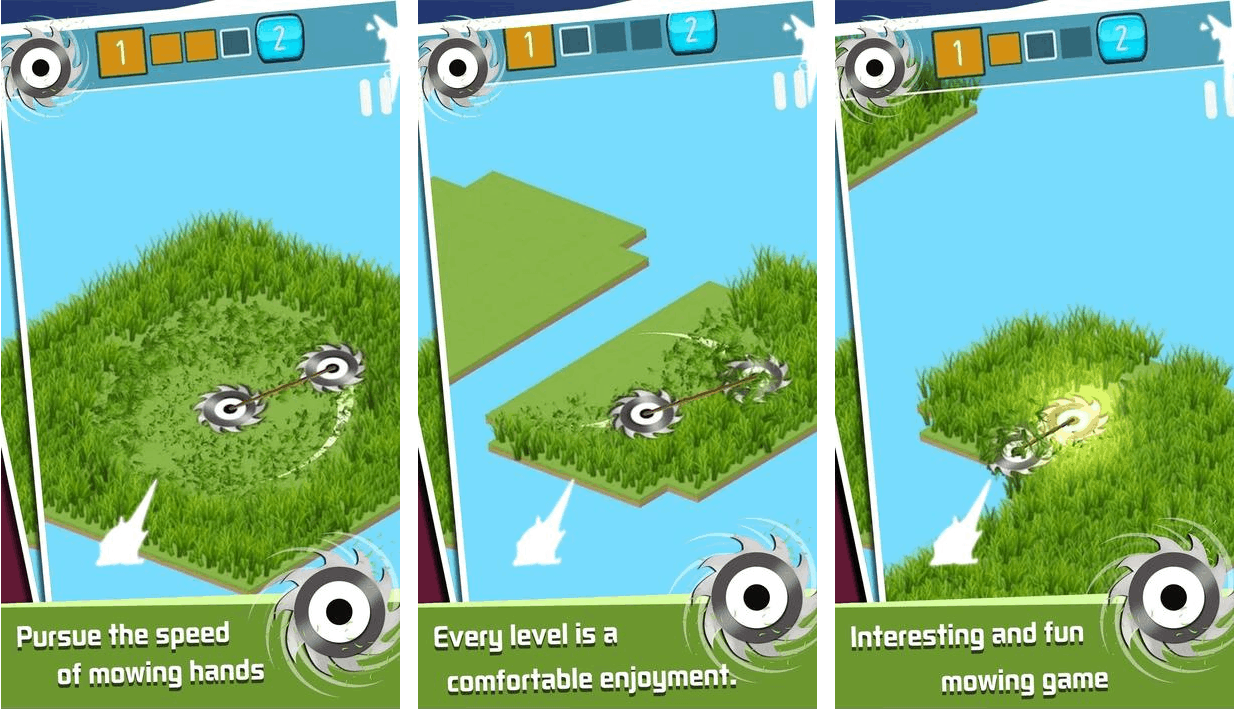 The Gameplay Basics of Cut Grass
Cut Grass is a very simple game to play. All you need to do is to guide the blade through a block of grass to cut it. Successfully cutting all the grass on the patch will help the flowers bloom and you'll proceed to the next patch.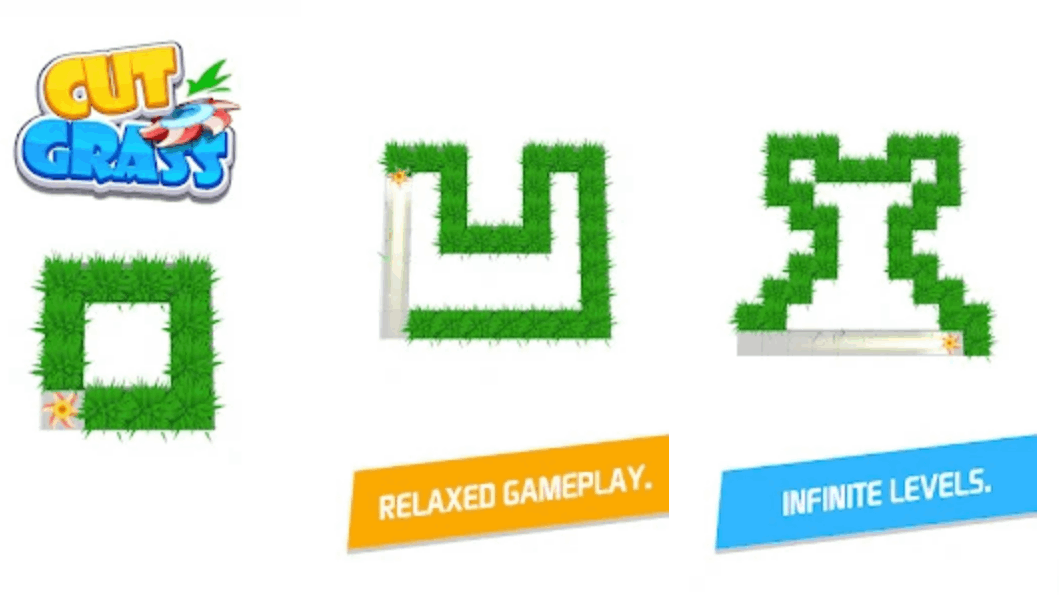 Each level will have a considerably more difficult grass patch to trim. This is where your skill will be tested. You'll need a steady hand and immense focus to complete the later stages of the game.
There will be several more challenges ahead as there are some patches that are hard to reach. If you hit a wall, the game will end and you might want to try again.
Use your blade and figure out how you can get to the end and cut all the grass.
Make It a Habit to Plan Your Next Move
Cut Grass is first and foremost a puzzle game. With puzzle games, you always have to examine the entire puzzle first before you make your first move. Observe the puzzle first and see what moves you can make.
Make sure that you always have a plan before you make your first move. You'll need to make your plan and an alternative plan as well in case things go wrong. Having a good plan before you move the blade will help you play the game faster and progress through each level quickly.
Make it a habit to do this even during the early stages. You'll need this skill once you reach the more difficult levels in the game. Remember, take the time to study the puzzle. You'll be rewarded for doing so early on.
Always Prioritize Nearby Grass First
The game might be very simple to look at but at a certain point, Cut Grass becomes a wildly strategic and challenging mobile game to play. There will come a time when players will finally get their wits tested with how to finish a certain grass patch.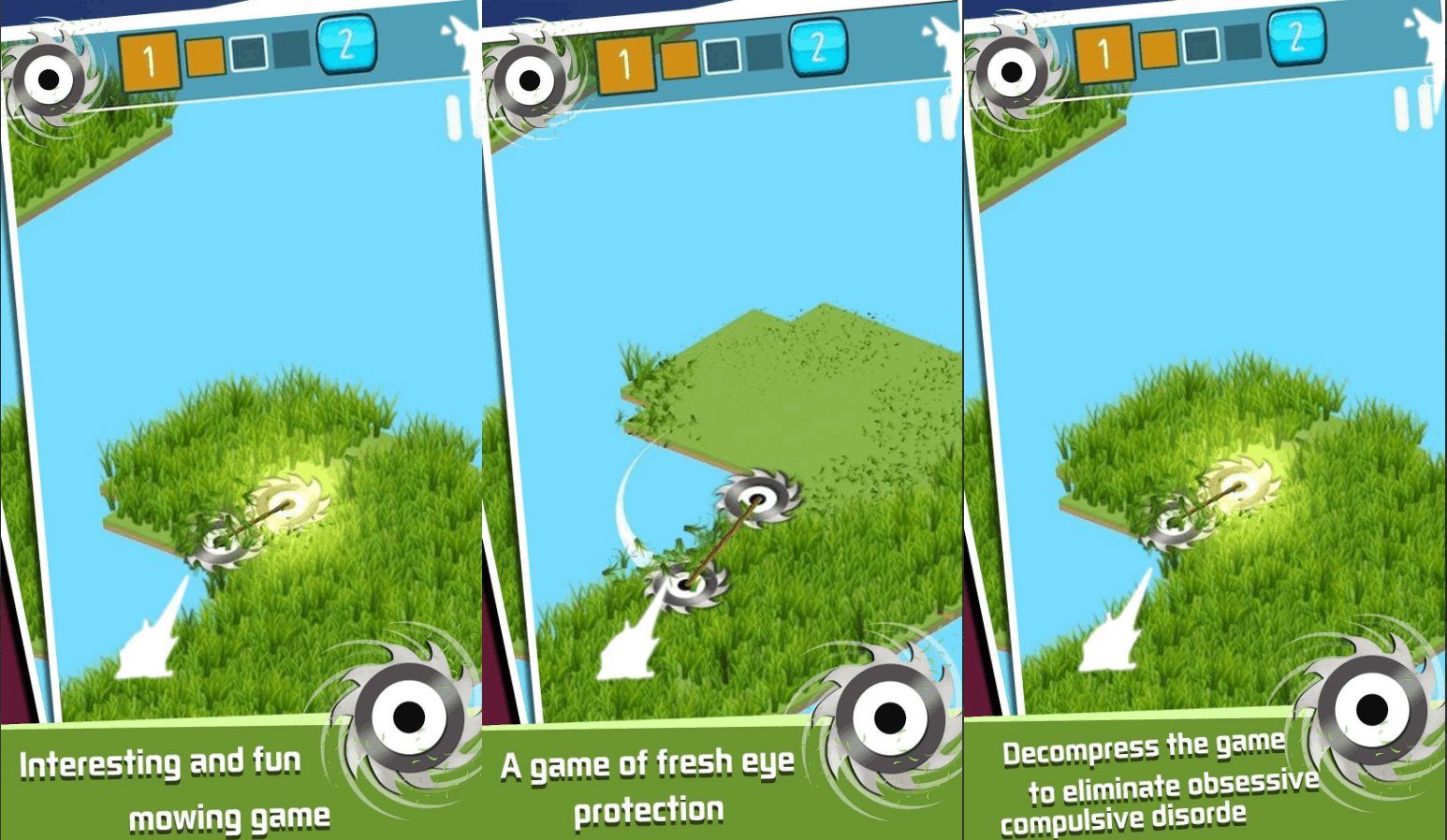 In these levels, you won't be able to proceed to the next patch if you don't cut the ones that are nearby first. It can be very difficult to do this especially when you're dealing with a puzzle that is not the usual shape.
When the walls don't align and it can be pretty hard to cut grass. Many players tend to give up at this stage in the game. However, this is the perfect opportunity to make a plan and think through it carefully.
Make Sure to Take Out the Flowers as Well
Aside from clearing the grass within the level, players also have another objective that needs to be completed as well.
The game introduces flowers in each level and each flower is scattered randomly within the patch. All you need to do is to clear the grass on the patch including the flower to collect it.
Collecting all the flowers within the patch will immediately complete the level. However, if you want to complete the level with a higher score, it is much better to clear everything in the patch before collecting the last flower.
Take Advantage of the Reset Button When You're in Trouble
There are times in this game when you'll have a lot of difficulty. You'll spend hours and hours trying to solve how to complete the puzzle and each time you try to make a move, you realize it's the wrong one.
If you find yourself caught up in a difficult situation, you can always tap the reset button to start again.
It is best that you try to solve the puzzle first without minding the time just to see if you can if you it finishHowever, if you find it difficult, you can just reset the level.
Make sure that you start the level with a fresh perspective or else you'll surely run into the same predicament over and over.
Unlock More Blades by Playing the Game
Blades are your sole weapons in this game and they do one thing - cut the grass. They come in different shapes and sizes which brings us to the next tip. Unlock more blades by simply playing the game.
Certain types of blades do well at certain levels. There are some blades with longer reach that help you complete the level much faster. This kind of blade also helps players traverse through different terrain. However, they can also be detrimental if you're working on a smaller patch.
Make sure that you use a specific blade for a specific scenario. If not, you'll have to restart the entire level so you can use a different blade.
Here's How You Can Get Diamonds in Cut Grass
Diamonds are precious resources that you can collect by playing the game. Finishing each level will reward you with a decent amount of diamonds that you can then later use to purchase cosmetic items such as new blades.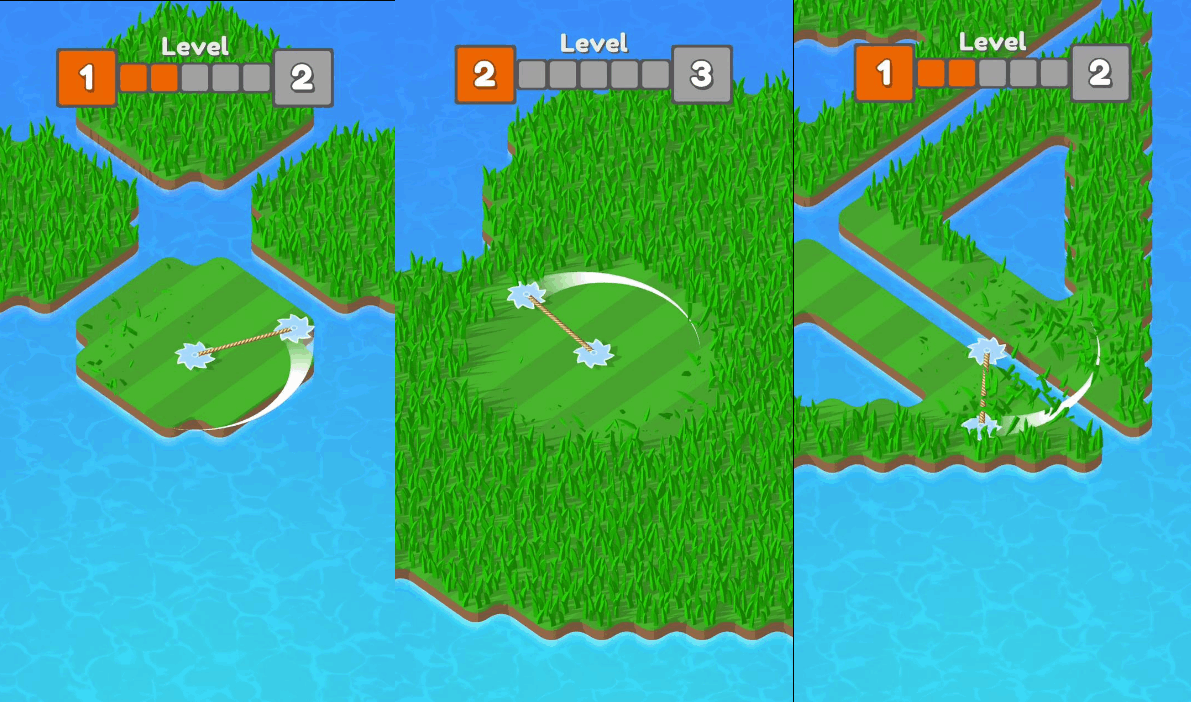 You can also exchange the diamonds you've earned with real money. While that might still be debatable if it is indeed true, the best way to earn a lot of diamonds in this game is to watch ads.
The option to watch ads is often available after you finish each level.
Check them out whenever they are being offered so you can collect a lot of diamonds as fast as you can.
Clear the Grass to Receive More Diamonds
Another good way to receive diamonds in Cut Grass is to simply clear the grass. As soon as you try to cut the grass with your blade, diamonds will come flying out of the grass and you will automatically collect them.
There is a caveat to this though. There is no guarantee that every time you cut the grass there will always be diamonds hidden inside.
This is why you should always aim to clear the grass in each patch so you can maximize how many diamonds you can collect in this game. You already know how precious these diamonds are so it is best that you thoroughly cut all the grass.
Play Cut Grass to Have a Relaxing Time
Cut Grass offers very relaxing gameplay. There are a lot of puzzle games that help you settle down and Cut Grass is one of them.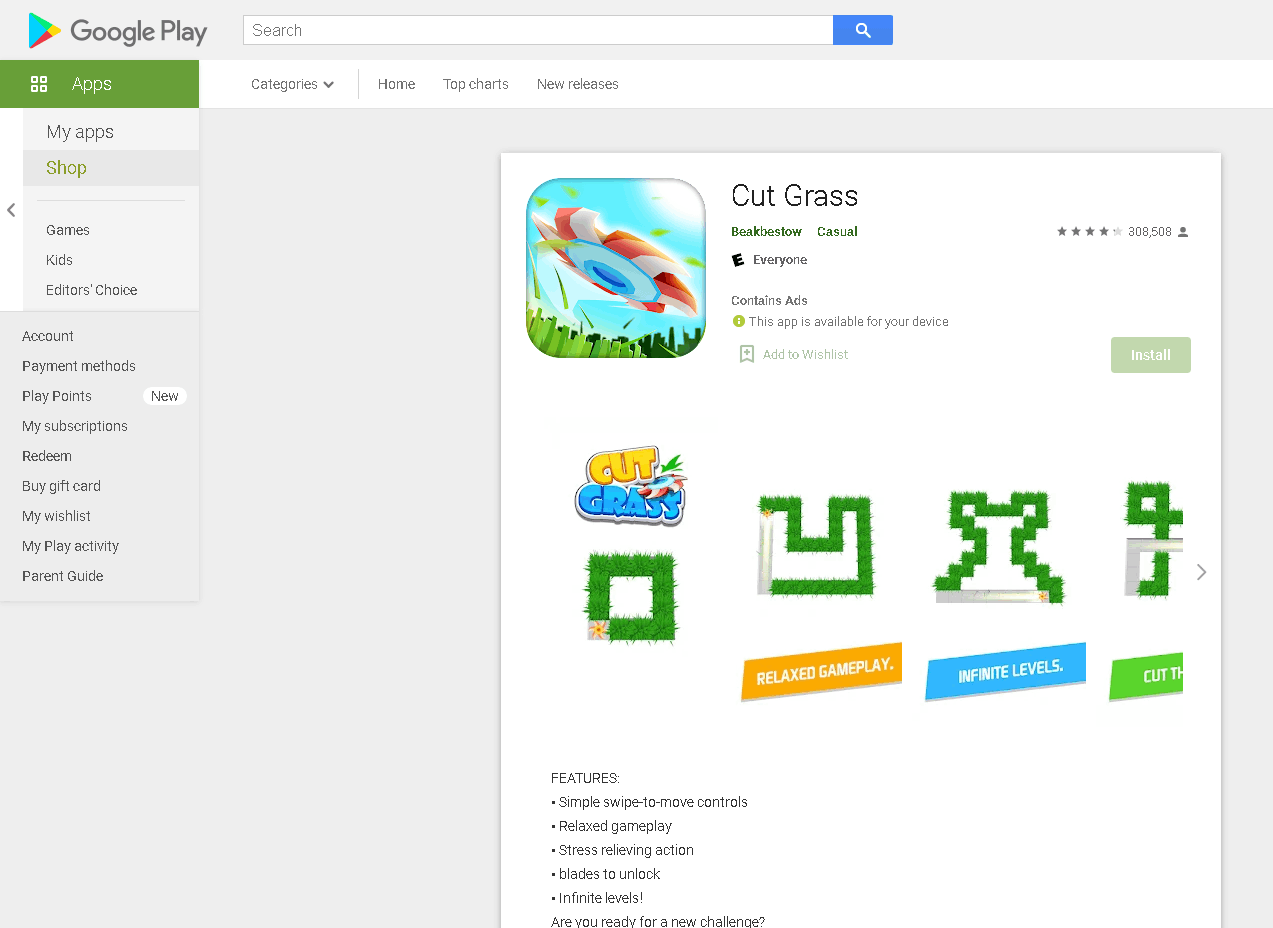 The game doesn't require you to finish each level within a certain time frame so you don't need to feel the pressure. The game is built to help you relax after a day's work so enjoy your time while you play.
Focus on trying to complete the level at your own pace. Patience is key to winning more games.
However, the best advice that anyone can give you when playing Cut Grass is to step back and enjoy the game.
How to Download Cut Grass
Now that you know how to play the game and how to get diamonds, are you ready for the challenge? Download Cut Grass today from the Google Play Store. It is exclusively available on Android devices. To download, head over to the Google Play Store and search for the game using the title.
Tap "Install" to begin downloading and wait until the game is fully installed. Tap "Open" to launch the game and you can now start playing.
You may also choose to remove the ads from the game through a small payment. Since this disables ads in the game, you won't be able to collect as many diamonds as before.
Conclusion
Cut Grass is a very basic puzzle game with a very simple premise. It doesn't involve a lot of mechanics or heavy strategy which is why many players are invested in playing this relaxing game.
Follow the tips and tricks mentioned above so you can get diamonds fast and learn how to play the game effectively.