Choosing a casual game can be very difficult especially when it comes to mobile games. There are a lot of casual games to choose from that you can easily download and play while you're stuck in traffic or waiting for someone. One of which is Take Them Off.
Take Them Off is a mobile game where you control a lady with a hair problem. Control the character as you move along a platform filled with traps and items that will determine your fate in the game. Complete each level by removing the hair from your character's body and get to the end to meet your date.
The gameplay is pretty simple but there are still many players who find it rather challenging. Don't worry as you are about to learn a few tips and tricks as well as how you can get diamonds for more items in the game. Check out the guide below.
What Is the Goal of Take Them Off?
Tips and Tricks on How to Play Take Them Off
Collect Boosters Along the Way
Roll Over the Sticky Patches
Complete Each Level to Gain Diamonds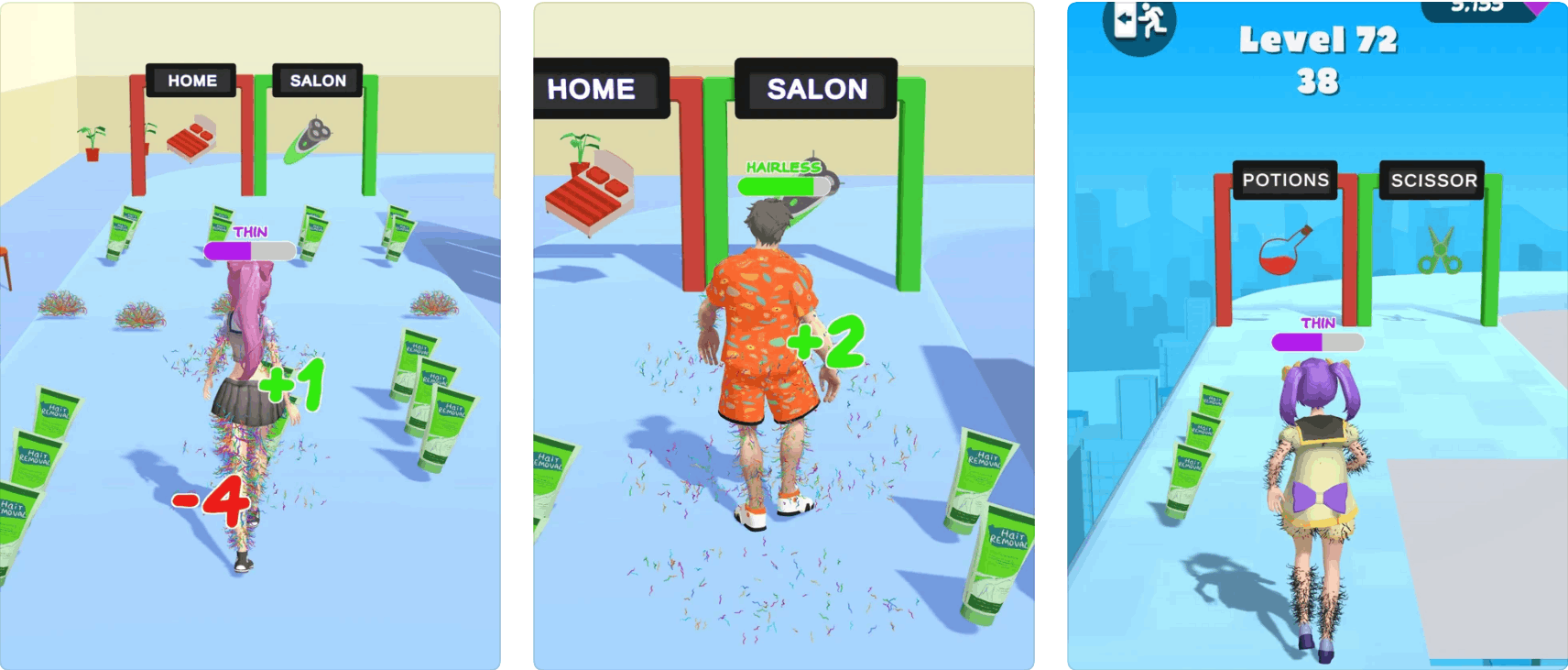 What Is the Goal of Take Them Off?
Take Them Off is a simple mobile game where players control a beautiful lady who is filled with hair. The objective of the game is also very simple.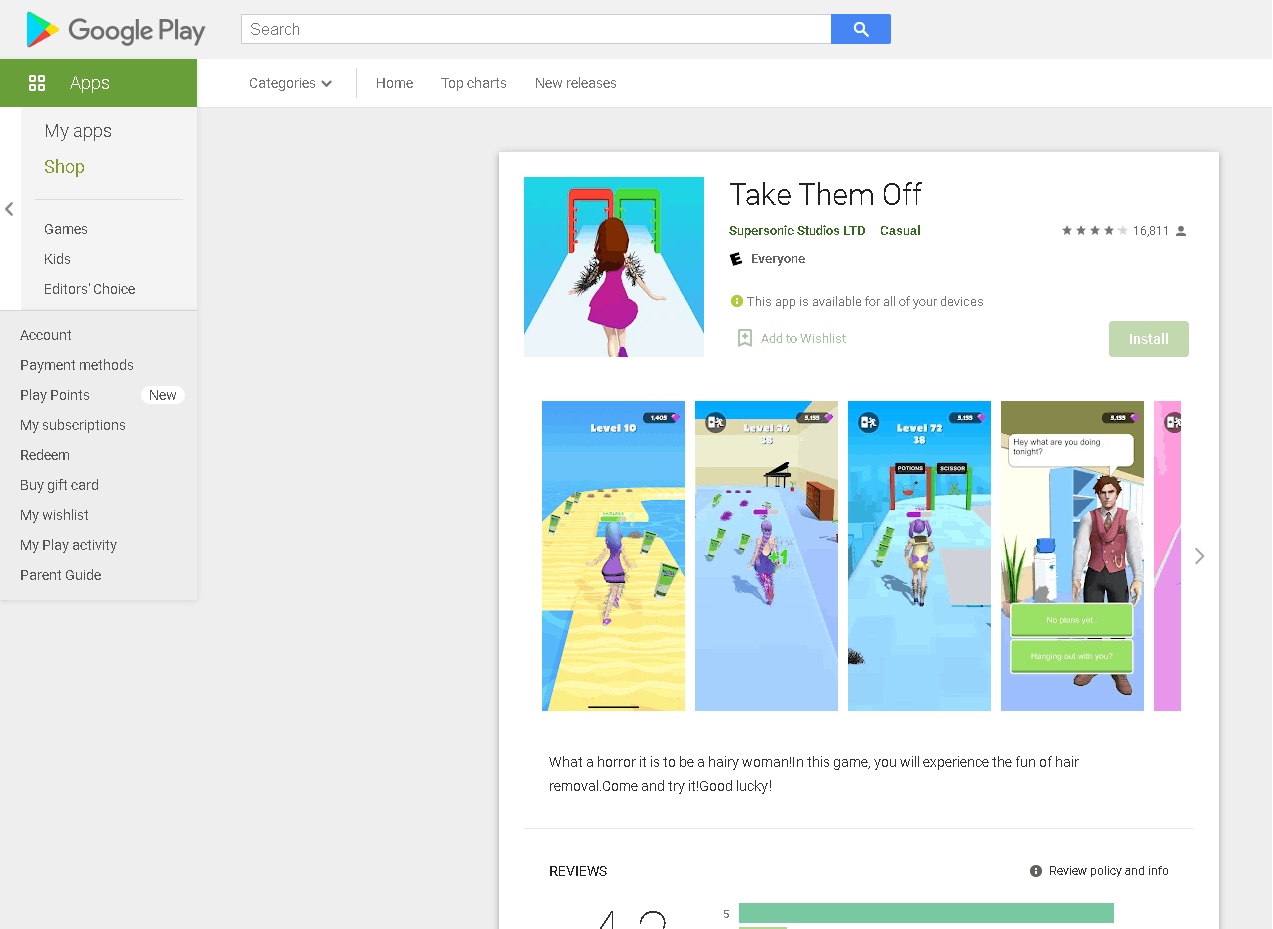 All you need to do is to gather the hair remover gel on the platform while also dodging the clumps of hair as you move towards the finish line. Players must also try to avoid the clumps of hair as it attaches to the main character.
The more hair your character has, the heavier she becomes and you end up losing the game right before you can reach the finish. Each level presents different kinds of challenges.
The early levels are very easy to take advantage of learning the game before you reach the later stages.
How to Download This Amazing Game
Before you continue with the guide, here's how you can download the game for free. Take Them Off is available to download from the Google Play Store and the Apple App Store.
Search for the title of the game and once you find it, tap Install to begin the download process. Wait until the game is fully installed before you tap Open to launch.
Make sure that you only download the game from these platforms to avoid any security and safety issues on your account and your mobile device.
Tips and Tricks on How to Play Take Them Off
Playing Take Them Off is rather simple with its very basic gameplay but that doesn't mean that it features no level of difficulty for the player. There are a lot of traps and other mechanics that make the game challenging even for seasoned players of the genre.
One of the best tips that anyone can give to you when playing this game is to swipe as fast as you can. Swiping left and right will move your character in the same direction but swiping it fast will let you traverse quickly.
This technique is highly recommended if you want to gather as many hair removal gels on the ground as possible.
Remember that gathering these gels will boost your score at the end so go ahead and use this technique if you encounter a group of gels lying on the ground.
Take Advantage of the Speed Boost
Collecting the hair removal gel on the ground will remove the hair stuck on your character. As you move along the platform toward the finish line, you should always collect as much of it as you can.
There is a moment in the game where you will suddenly receive a speed boost after you collect a certain amount of the gel. It is indicated by a colored meter at the top of your character's head.
At first, the meter is indicated by the color orange and once it changes to violet, your character will move faster than usual. Take advantage of this sudden speed boost to collect even more hair removal gel from the ground so you can speed your way to the finish line.
Collect Boosters Along the Way
At the start of the game, you will only be collecting hair removal gel. Things begin to change once you start playing the game at the later stages.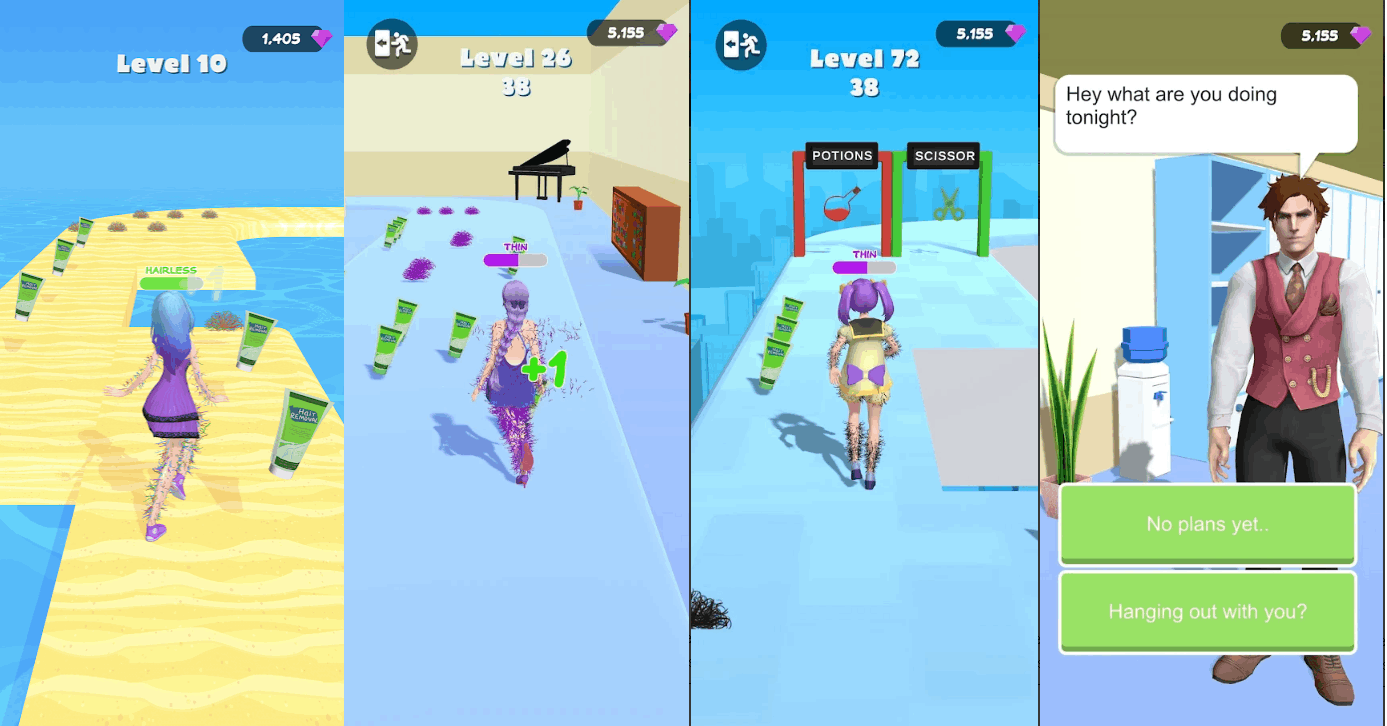 Apart from the hair removal gel that you collect from the ground on each level, there are also other items that you can gather to help you remove the hair from your character. In addition, boosters are available as you progress in the game.
Take note that while boosters help remove the hair from your character's body, you also get to choose which ones you pick up. Most of the time, it won't make a difference but choosing scissors and Vitamin E will surely help remove a lot of hair.
This will also help you earn more points and add more power to the colored indicator for the speed boost.
Try Not to Choose Androgen
As was mentioned above, there are certain items called boosters that you can choose to help you remove more hair from your character.
There are a lot of choices but there is one that you should always try to avoid as much as possible. Androgen is one item that will not only let you grow hair, it can also mean the end of your journey in the game.
Picking the Androgen item will reverse all the hard work that you have done up to that point. Avoid it at all costs.
Roll Over the Sticky Patches
Things begin to be even more interesting once you complete more levels in the game. Potions and other boosters are available but there is one item that you should never miss during these levels.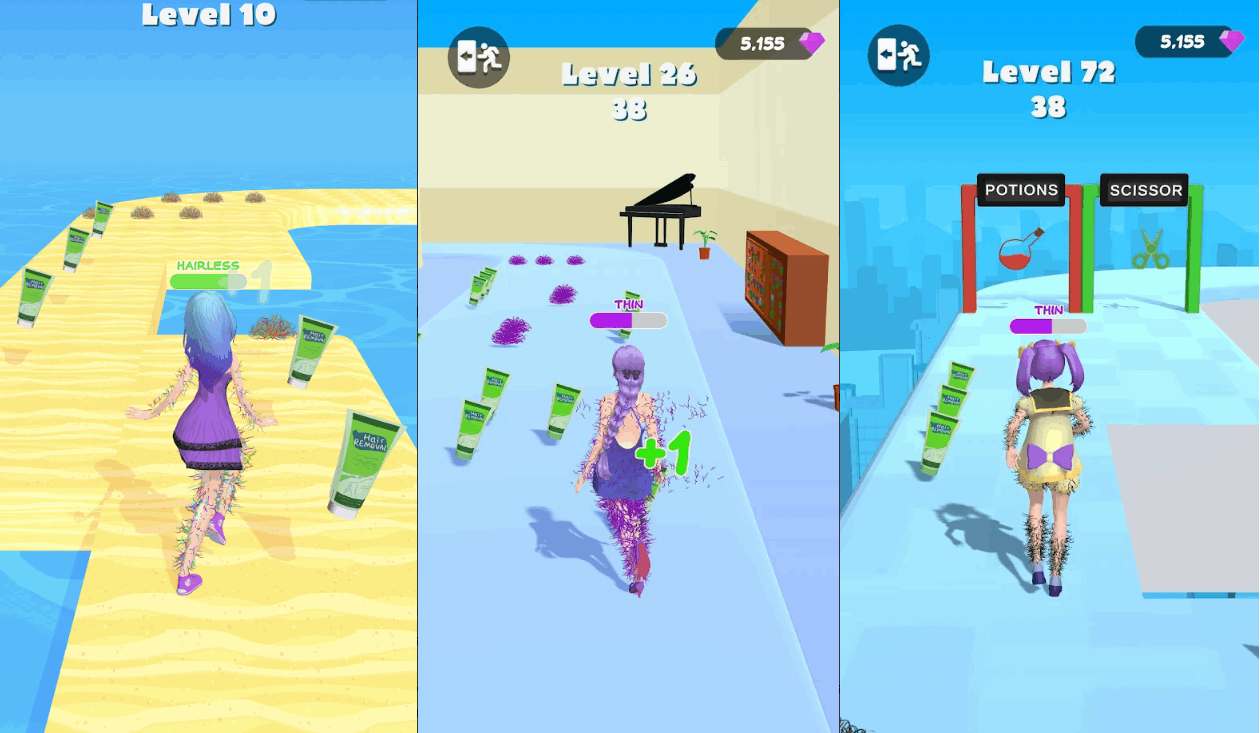 There are certain patches in these levels that you can roll over to remove a huge chunk of hair from your character's body.
Never forget to roll over when you encounter them as it will help you gain more points and get to the finish line much faster.
Rolling over these patches will greatly improve your speed but you will also need to choose between one of the two patches on the ground. Choose any one of them but be careful of traps.
Avoid the Hairy Men
From boosters to hairy traps, you might think that you've seen it all in Take Them Off. You're about to be surprised with what's to come. It's a bit hilarious to think that the game has a lot of adversaries but one of the funniest but also the most dangerous are the hairy men.
If you encounter hairy men on certain levels, it is best that you move away to dodge them as much as possible. They will try to hug you when you get near them and you will attract the hair from their body.
It's quite unrealistic but that's just how the game goes. Avoid the hairy men at all costs and you should be fine. If you must, hug the hairless men and you get bonus points instead.
Complete Each Level to Gain Diamonds
Diamonds are one if not, the most crucial reward that you will ever receive in this game. While they are important, they are also the easiest reward that you can get.
All you need to do is to complete each level and you'll receive diamonds at the end of each level. The number of diamonds you get at the end will also depend on how well you've played the game.
This includes how much hair is lost during your entire run within the level. There are also multipliers near the end of each level that will exponentially increase the number of scores you get.
Remember that the score you receive upon finishing the level will correspond to the number of diamonds you get after so play well.
Use the Diamonds to Unlock New Skins
Now that you've learned how to gain diamonds in this game, it is time to put it to good use. Diamonds are meant for only one—to unlock new skins. Surely you are itching to try on the newest outfit for your character as you play.
You can unlock these new cosmetic items by purchasing them at the store through the use of your hard-earned diamonds. If you're fond of collecting cosmetic skins, the game also rewards you with new skins after completing a certain number of levels.
Be sure to continue playing the game so you can unlock even more skins for your character.
Conclusion
Take Them Off is a very fun mobile game if you are looking for a simple and casual game to play. While it does have some challenges, the game is fairly easy to play.
If you're still having some difficulties, go ahead and follow the tips and tricks mentioned above. Don't forget to download it today and enjoy the game!